Research is a principal component of the Sustainable Campuses Initiative. The project counts with a team of researchers from the Universidad Autónoma del Estado de Morelos, Universidad Pedagógica Nacional (Morelos), the Universidad Politécnica del Estado de Morelos and Dawson College. The research projects cover different themes that contribute to the understanding of sustainability as a guiding principle for post-secondary institutions. Our research is both applied and adheres to the principles of participatory research, looking to engage our educational communities in the research and action process. An important part of our research is the research that is done by students from our institutions. Scholarships for undergraduate and graduate students support research projects at all of our partner institutions in Mexico. In addition to providing financial resources for research and action on campus sustainability, our initiative works on establishing spaces for the sharing of knowledge.  Forums, colloquiums, workshops and other spaces have been established for researchers (students as well as faculty) to establish a dialogue about the state of the literature and methodologies and to share research results. We also strongly encourage collaboration among our researchers across disciplines and institutions.
La investigación es el componente principal de la iniciativa Planteles Educativos Sustentables. El proyecto cuenta con un equipo de investigadores de la Universidad Autónoma del Estado de Morelos, de la Universidad Pedagógica Nacional (Morelos), de la Universidad Politécnica del Estado de Morelos y de Dawson College. Los proyectos de investigación cubren diferentes temas que contribuyen a entender la sustentabilidad como un principio guía para la instituciones de educación superior. Nuestra investigación es aplicada y adherida a los principios de investigación participativa con el objetivo de involucrar a nuestras comunidades educativas al proceso de investigacion y accion. Una parte importante de nuestra investigación es que esta misma sea hecha por los estudiantes de nuestras instituciones. Las becas distribuidas a los estudiantes universitarios de licenciatura y maestría apoyan proyectos de investigación en todas las instituciones con las que colaboramos en México. En adición a proveer recursos financieros para investigaciones y acciones de sustentabilidad en los planteles, nuestra iniciativa trabaja para establecer espacios para compartir información. Foros, coloquios, talleres y otros espacios han sido establecidos para establecer diálogo entre investigadores (estudiantes y profesores) sobre el estado de la literatura, metodología y para compartir resultados. Nosotros incitamos la colaboración interdisciplinaria y entre nuestras instituciones.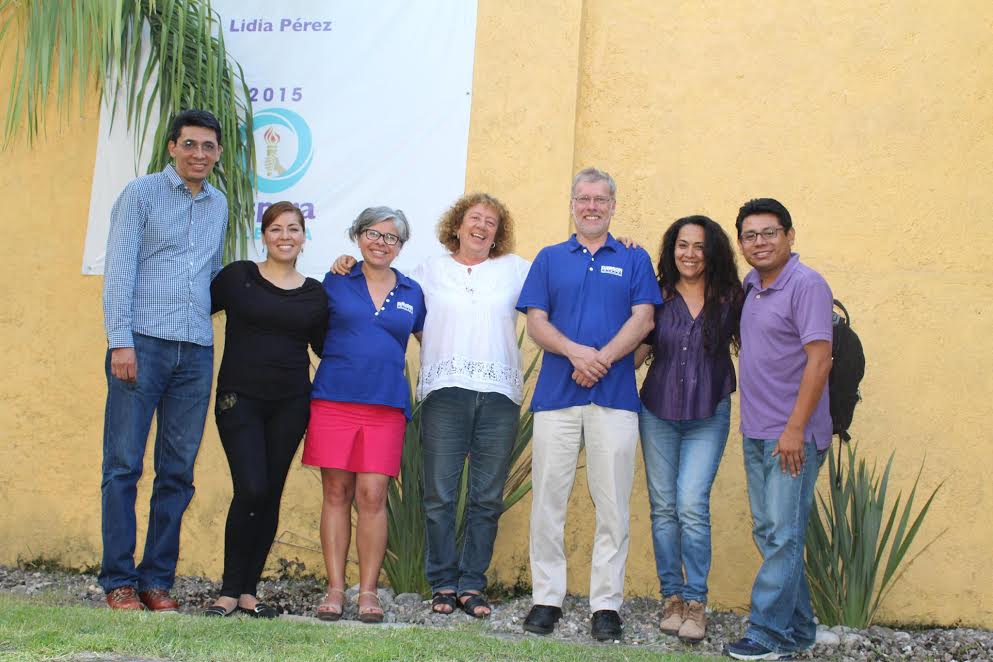 Pictured (left to right):  Jorge Dominguez (UPN), Paulina Moguel (Ciudades Verdes), Gisela Frias (Dawson College), Margarita Hurtado (Ciudades Verdes), Chris Adam (Dawson  College), Luisa Montes (UAEM)  and Juan Salvador Nambo (UPEMOR)
Our Research
The principal researchers involved in this research are all carrying out research to advance sustainability in their institutions. Coming from different disciplinary backgrounds we are all collaborating to contribute to the understanding and advancement of sustainability in our institutions.
Los principales investigadores involucrados en este proyecto están todos investigando formas para avanzar la sustentabilidad en sus instituciones. Miembros de diferentes disciplinas académicas, estamos todos colaborando para contribuir a la comprensión y avance de la sustentabilidad en nuestras instituciones educativas.
Dr. Gisela Frias – Dawson College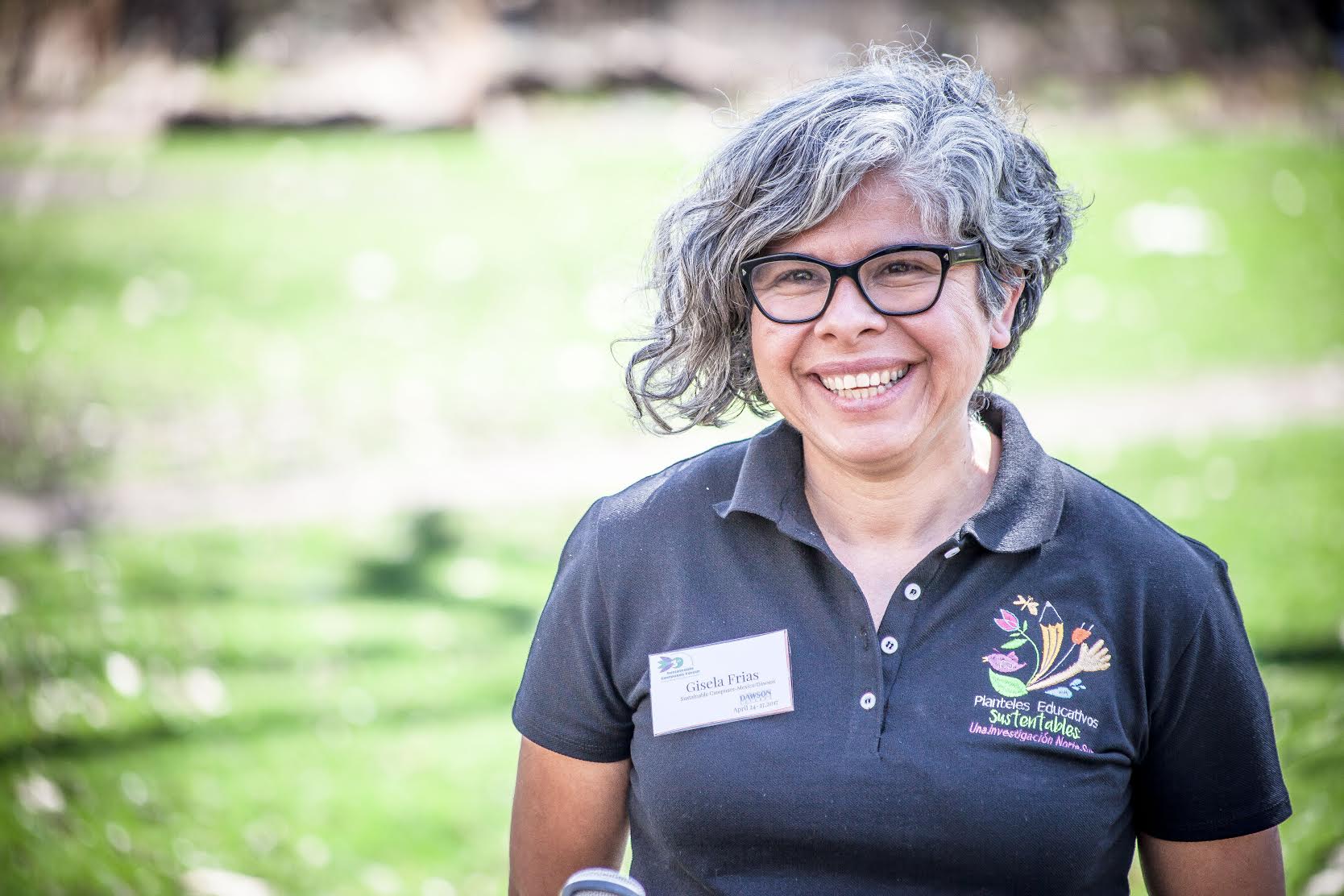 Dr. Gisela Frias teaches geography at Dawson College. She is the Principal Researcher and coordinator of the Sustainable Campuses Initiative. The main objectives of her research are to identify factors that support and those that limit the organizational processes needed for campus sustainability as well as explore how north/south (Canada/Mexico) institutional partnerships can support processes of knowledge creating and sharing.  Her research uses the Sustainable Campuses Initiative as a case study and aims to engage all of its participants in a participatory action research process.
La Dra. Gisela Frias enseña geografía en Dawson College. Ella es la investigadora principal y coordinadora de la iniciativa Planteles Educativos Sustentables. Los objetivos principales de su investigación son identificar factores que promueven y los que limitan los procesos organizacionales que se necesitan para la sustentabilidad en planteles educativos y también explorar cómo las asociaciones institucionales Norte/Sur (Canadá/ México) pueden ayudar a generar y compartir conocimiento. Su investigación usa la iniciativa de  Planteles Educativos Sustentables como caso de estudio con el propósito de involucrar a los participantes en un proceso participativo de investigación- acción.
Chris Adam, M. Ed. -Dawson College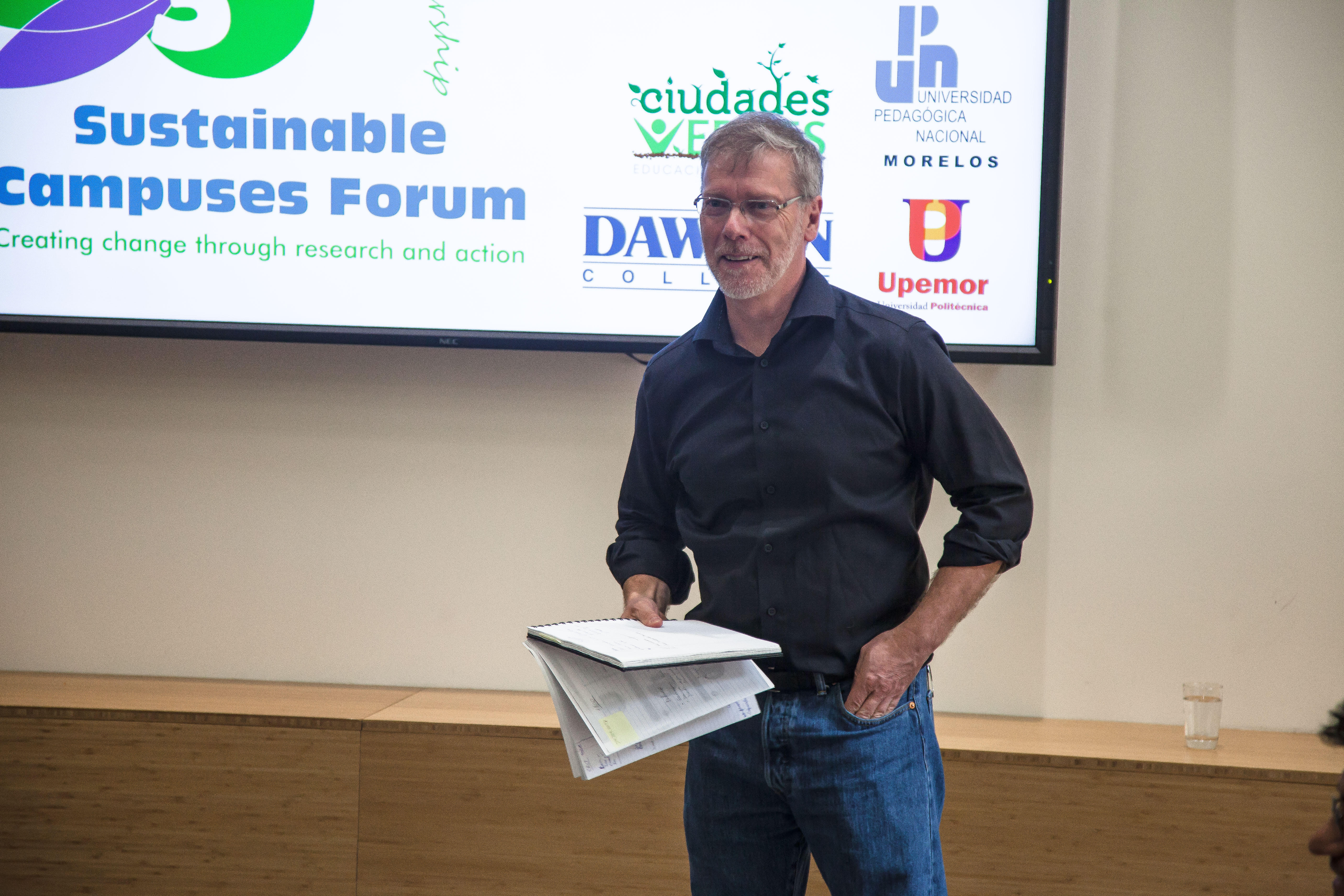 Chris Adam is a teacher in the Community Leadership and Recreational Training program at Dawson College. He is also the project lead for Sustainable Dawson/Living Campus. Chris' research is grounded on the premise that one of the key aspects to change as we strive for sustainable campuses is the paradigm shift from a dominant social paradigm to an ecological one where protection of natural systems becomes engrained in any organization. Identifying the importance of preservation of the environment at the biosphere level has proven challenging, but recognizing the restorative nature of the natural environment and the possible reduction of stress, violent behavior, absenteeism and increase in creativity and general health as consequences of exposure to natural spaces can be a significant change tool. Chris has been working on understanding how Nature within educational institutions can influence the ethos of the organization, student success and retention of students. His research is capturing student and teacher attitudes based on their experiences with the Sustainable Campuses Initiative.
Chris Adam es profesor en el programa Liderazgo Comunitario y Entrenamiento Recreacional. Es también líder del proyecto de Living Campus. La investigación de Chris está basada en la premisa de que uno de los aspectos claves para lograr con el objetivo de sustentabilidad en los planteles es el cambio de  paradigma de la dominación social a una ecológica, en la cual la protección  de los sistemas naturales está arraigada en la organización. Identificar la importancia de la preservación del medio ambiente a nivel biosférico a sido un desafío pero reconociendo la naturaleza restauradora del medio ambiente y la posible reducción del estrés, de comportamiento violento, el absentismo y el aumento de la creatividad y de la salud en general como consecuencia de la exposición a espacios naturales puede ser una herramienta de cambio significativa. Chris ha estado trabajando en entender cómo la naturaleza en las instituciones educativas influencia el carácter distintivo de la organización, el triunfo de los estudiantes y la retención de los estudiantes. Su investigación identifica cambios de actitudes de los estudiantes y de los maestros basadas en sus experiencia con la iniciativa de Planteles Educativos Sustentables.
Dr. Juan Salvador Nambo -UPEMOR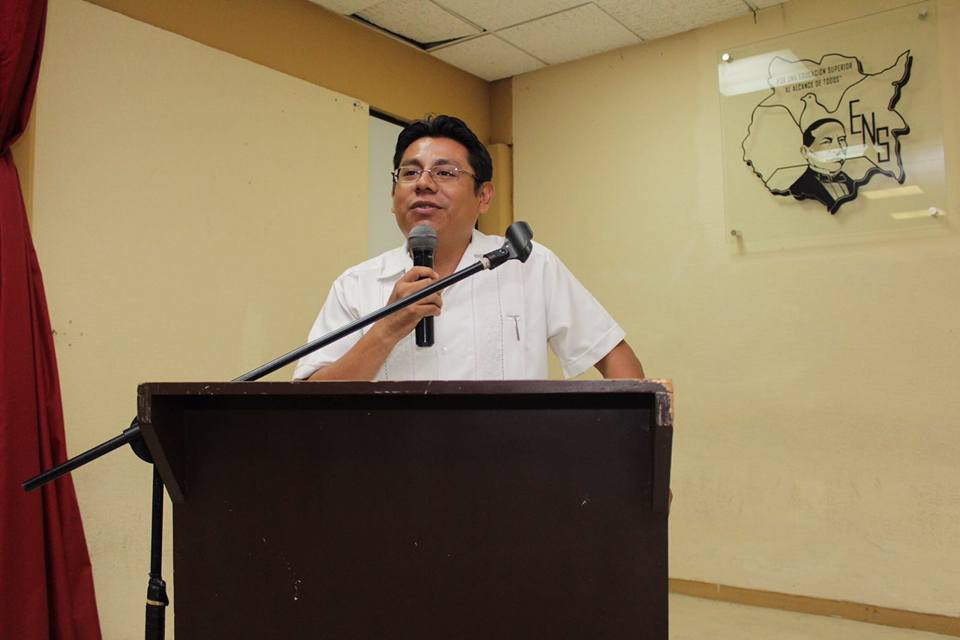 Dr. Juan Nambo is working on developing a conceptual and methodological framework to identify and provide support for violence prevention in the school environment. His work considers practices of prevention, coexistence and sustainability, implemented both in schools in Mexico and at Dawson College. His research explores the practice of "Peace Gardens" which bring together artistic, academic and indigenous expressions for their construction. The methodology for this study includes work with focus groups, surveys and documentary work. Through a conceptual cartography he describes the different methodological components of this action research project.
Dr. Juan Nambo está desarrollando una estructura conceptual y metodológica que identifica iniciativas y provee apoyo a la prevención de la violencia en el ambiente escolar. Su trabajo considera prácticas de prevención, de coexistencia y sustentabilidad, implementadas en escuelas en México y en Dawson College. Su búsqueda explora la práctica de 'Los jardines por la Paz' que juntan expresiones artísticas, académicas e indígenas en la construcción de ese mismo. La metodología de este estudio incluye el trabajo con grupos focales, las encuestas y el trabajo de documentación. A través de la cartografía conceptual, el describe los diferentes componentes metodológicos en este proyecto de investigación y acción .
Jorge Arturo Dominguez M.Ed. -UPN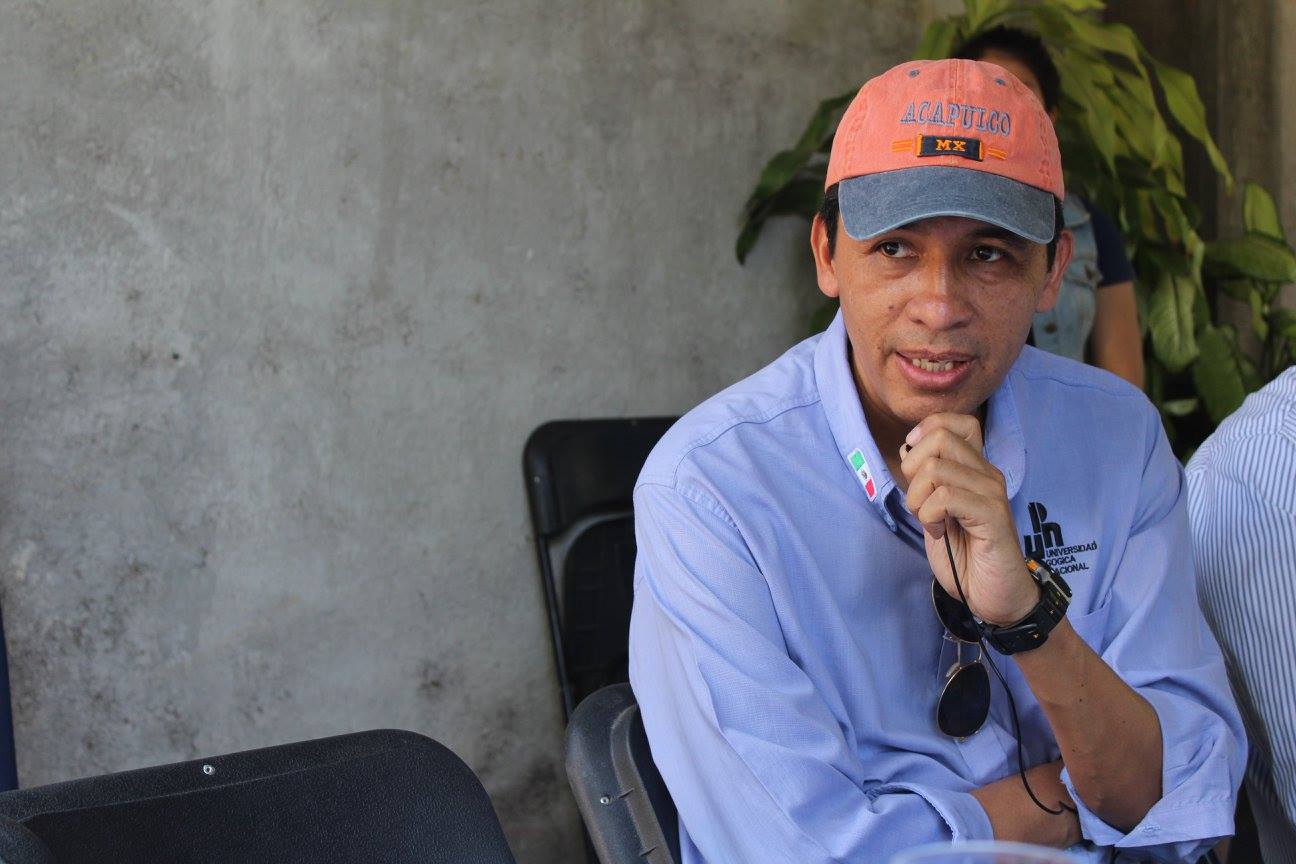 Jorge Dominguez is a teacher and Academic Coordinator at the UPN Morelos (Cuernavaca campus). His research is titled "Pregnancy and maternity at the UPN Morelos: an educational policy that can help overcome the delay in graduation and school dropout". Teenage pregnancy continues to be an important reality for Mexico and has become a matter of public policy. Teenage and juvenile pregnancies usually occur in an unplanned manner and have effects on the health, education and life expectancy of young women. In universities, the number of pregnant students or mothers has increased considerably. At the Morelos National Pedagogical University this is a reality for many students. This research's main objective is to learn from the experience of students who are pregnant and/or have children and to explore possible institutional support mechanisms that can result in a lower drop-out rate and overall more supportive experience for these students. Jorge's research contributes to our understanding of campus sustainability by acknowledging its social components and the role that educational institutions play as socially responsable agents.
Jorge Dominguez es maestro y coordinador académico en la UPN Morelos (Sede Cuernavaca). El título de su investigación es 'Embarazo y maternidad en la UPN Morelos: una política educacional para ayudar a combatir el retraso de la graduación y el abandono de la escuela". El embarazo adolescente continúa siendo una importante realidad en México y se ha vuelto un asunto de política pública. Los embarazos adolescentes o juveniles ocurren normalmente de una manera no planeada y tienen consecuencias en la salud, la educación y la esperanza de vida de las jóvenes involucradas. En las universidades, el número de estudiantes embarazadas y madres ha aumentado considerablemente. En la Universidad Nacional Pedagógica de Morelos es la realidad de muchas estudiantes. El objetivo de la investigación es de aprender de la experiencia de las estudiantes que están embarazadas o tienen hijos y de explorar mecanismos de apoyo posibles que puedan resultar en bajar la porción de abandono de los estudios y en general encontrar más apoyo para estas estudiantes. La búsqueda de Jorge contribuye en entender la sustentabilidad en los planteles reconociendo su componente social y el rol de las instituciones educativas como agentes socialmente responsables.
Luisa Montes M.C.P. UAEM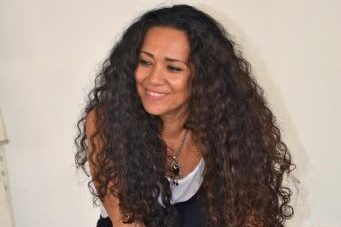 Luisa Montes is both a teacher and a researcher at the Tres Marias Community Preparatory School UAEM. Her study "Community theater as a bridge to sustainable behavior: The Case study of the Tres Marías Community Preparatory School" has its theoretical basis grounded in the theory of Psychology of sustainability by Víctor Corral Verdugo, Popular Education and Wellness Promotion, as well as Positive Psychology by Alejandro Tapia and the works of Rethinking dramaturgy by Antonio Araujo. She is presently working with a group of students putting a theatrical play "Time for Change". Data gathering for this research project includes continuous documentation of the process as well as an audio and video registry.
Luisa Montes es profesora e investigadora en la Escuela Preparatoria Comunitaria de Tres Marías UAEM. Su estudio 'Teatro comunitario como puente a un comportamiento sustentable: El caso de estudio de la Escuela Preparatoria Tres Marías' tiene su base en la teórica de Psicología de la sustentabilidad de Víctor Corral Verdugo, Educación popular y Promoción de bienestar y Psicología Positiva por Alejandro Tapia y también los trabajos de Repensar la dramaturgia por Antonio Araujo. Luisa está actualmente trabajando con un grupo de estudiantes poniendo un pieza de teatro 'Tiempo de Cambio'. La recolección  de datos para esta investigación incluye la documentación continua del proceso  y un registro de audio y video.