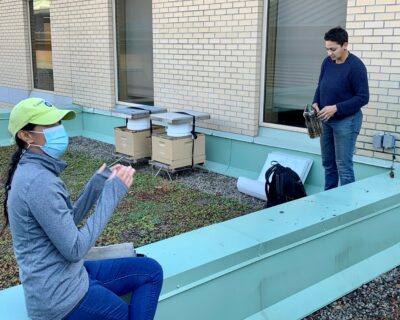 From Hive to Honey jar: Bee workshop for employees Nov. 17
A hands-on, sticky, and sweet celebration of the beekeeping season coming to an end! Our local beekeeper from Alvéole arrives with two bursting honey frames and all the equipment necessary to extract it. Participants actively participate in uncapping honey frames, turning the manual extractor, bottling the honey and—most importantly—tasting the fruits of the bees' labour!  Due to health restrictions, we can only welcome 30 participants. We will contact you to confirm your participation.
Wednesday Nov. 17
12 -1 p.m.
Conrod's 2F.4 near the stage
To express your interest, please email sustainability@dawsoncollege.qc.ca
Photo: Several employees, including Jenn de Vera, watched a beekeeper wrap up the bee hives (home to 100,000 Dawson honey bees) for winter on Dawson's 4H rooftop on Oct. 20.