Mech Tech students address campus sustainability through research and design projects
Graduating students in the Mechanical Engineering Technology program recently presented the results of their group research and design projects, addressing environmental and sustainability issues found on Dawson's campus.
As part of its inclusion in Dawson College's new Environment and Sustainability Certificate (ESC), the third-year design option course, Emerging Technologies, focuses on teaching students about new sustainable and environmental technologies and materials, as well as research methods and critical thinking.
In typical Mech Tech fashion, these topics were incorporated into hands-on research and design projects, with several teams managing to construct and test their projects, as well as present the results of their findings.
The primary goal was to address environmental issues on Dawson's campus by researching and proposing sustainable solutions. Feasibility studies would then be conducted to determine if their ideas not only had merit, but if these projects could be implemented on campus. The motivation of course being that these students would like to be able to say, "I made that!" or, "That's thanks to me!" regarding their projects having a tangible positive impact on their campus and community.
Despite this being a Mechanical Technology course, the project topics spanned the gamut from biology and chemistry to solar power and recycling, as well as incorporating the United Nation's Sustainable Development Goals.
With help and oversight from Brian Mader (Biology, Environment and Sustainability Certificate Coordinator), students Hilary Margareth Dambia Anong, Noah Carrière, and Kevin Huang knew that meal worms (Zophobas Morio) can consume and thrive on diets consisting partly of polystyrene plastic. They hypothesized that these meal worms could be used to consume and eliminate, through natural processes, the polystyrene waste created at Dawson College.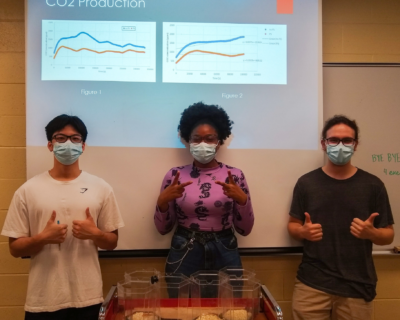 They researched the biology of meal worms and the chemistry of polystyrene biodegradation in their gut. With equipment loaned to them by the Biology Department, they conducted normalized tests to study how effectively these worms can biodegrade polystyrene. Carbon capture technology was also researched in order to determine if resulting CO2 production could be captured and sequestered. Finally, a feasibility study was conducted to determine if such a process could be incorporated into Dawson's waste management guidelines.

Students Denise Lan Austria and Victoria Schwartz researched the negative impacts of urbanisation on biodiversity and designed, built, and installed a prototype low-environmental-impact pollinator post on campus.
Student Ailish Troughton developed a proposal for how Dawson College could incorporate the use of newly invented transparent Ultra-Violet Photovoltaic Cells (transparent solar panels) to offset its greenhouse gas emissions and reduce its electricity consumption.
Students Zackary Bouffard, Tristan Go, and Kevin Chinedu Okonji conducted a feasibility and impact study of converting plastic beverage bottles (made of PET plastic) into 3D printer filament. PET can be remanufactured into 3D printer filament using specialized equipment. Through their research, they proposed a machine design and developed a procedure for how the Mech Tech Department could reduce plastic waste and give plastic beverage bottles a second life in the form of 3D printed student projects.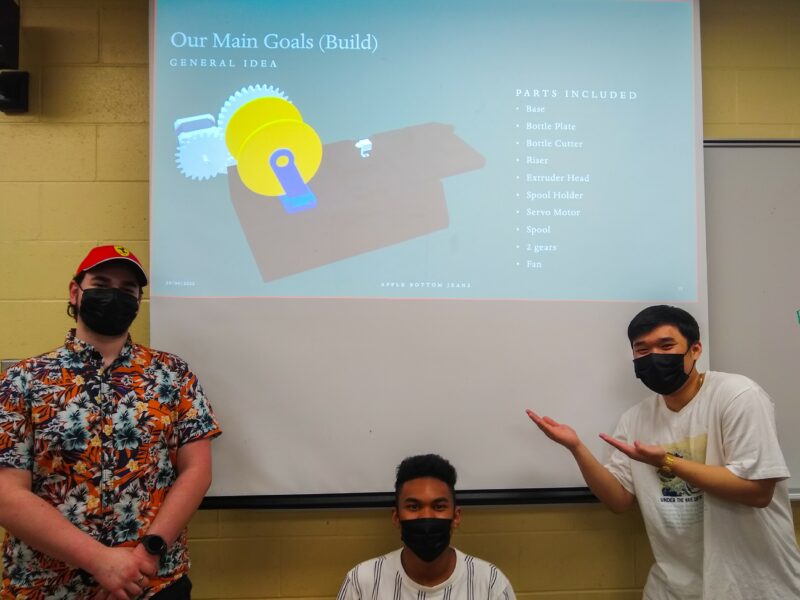 What was particularly exciting to see was the interdisciplinary aspect of these projects. These students reached out to professionals and teachers in other departments (Biology, Chemistry, Sustainability Office) to gain knowledge and expertise on topics outside their domain. While one of these projects has already been installed on campus (pollinator post, near the Sherbrooke entrance), the feasible projects have the potential to be picked up and developed by some of next year's students.

A big thank you goes out to Jenn De Vera and Chris Adam (Sustainability Office), as well as Brian Mader. Without them, this course would not have been the success it was.
-News and photos submitted by Adam Kingsland