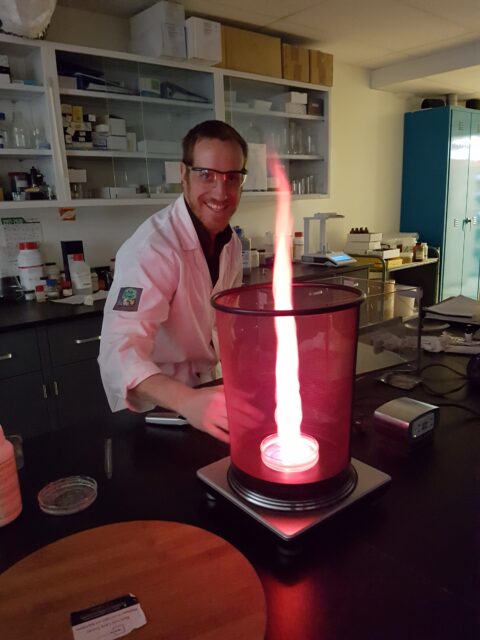 "Happy chemist" Yann Brouillette wins national award for excellence in teaching chemistry
Dawson's Yann Brouillette "is not a mad scientist, he's always a happy chemist," wrote the Chemical Institute of Canada in their Jan. 12 announcement that he is the 2023 winner of the Beaumier Award for High School/CÉGEP Chemistry Teachers in Canada. The award is given to one teacher in Canada every year in recognition of excellence in teaching chemistry.
A chemistry professor at Dawson College since 2009, Yann has been a devoted member of the Dawson Active Learning Community, serves as the Quebec regional director of College Chemistry Canada, and collaborated on the development of multiple free online pedagogical tools. Yann holds a master's (M. Sc.) in organic chemistry from Université de Montréal and a doctorate (Ph. D.) in organic chemistry from Université de Montpellier in France.
"I feel very lucky to have been selected, as I am surrounded by many inspirational colleagues," Yann said. "I was surprised when my master's director, Professor William Lubell from Université de Montréal, reached out to let me know he was nominating me. SALTISE co-director Elizabeth Charles and DALC co-coordinator Chris Whittaker also wrote letters of support for my candidacy, for which I am very grateful."
"We are so grateful to have Yann at Dawson," said Academic Dean Leanne Bennett. "Yann is focused on student success.  His students appreciate his creative approach, his enthusiasm for chemistry and his willingness to try new ways to connect with them. We are proud that Yann's excellent teaching is recognized across Canada."
Plans for more YouTube videos
Yann intends to invest his prize into making more videos for his YouTube channel, CHEM CURIOUS. "I haven't made one since Covid, so I am very excited about that," he said.
Yann decided to be a Chemistry teacher because he always enjoyed science. "Look around you and question your surroundings. Every time something gets created or destroyed, that change in matter involves chemistry," he said.
"As a kid, when I was reading X-Men comic books, I was fascinated by the notions of mutation, genes and evolution. During my college years, the organic chemistry course solidified my love for chemistry as I understood I could actually be some sort of molecular architect. I also always enjoyed explaining to my peers what I understood, and I guess that later translated into explaining to students in the form of teaching. As long as I have good reactions with my students, I want to keep being a chemistry teacher (pun intended)."
Comic Book Chemistry
In January 2014, Yann created a new complementary course for non-science students entitled "Comic Book Chemistry," where he uses situations depicted in graphic novels to explain basic chemistry. Teaching during the day, and writing at night, he enjoys guest-lecturing and co-writing pop culture chemistry articles.
Yann's master's director, William Lubell, still inspires him today. "Not only has he got the most impressive memory I have seen, but despite being one of the greatest chemists I have known, he will always generously offer his time to share what he knows," Yann said.
Dawson colleagues also inspire and support Yann. "Elizabeth Charles has brought a meta-cognitive level to my understanding of pedagogy. Physics teachers Chris Whittaker, Chris Roderick, Jean-François Brière, Rhys Adams and Phoebe Jackson, as well as Carmen Leung in Chemistry are examples of dedicated, ingenious and cultivated professors who have motivated me to be as good as they are."
To keep up with pedagogical developments and new approaches, Yann overcame his shy nature to reach out to different communities at Dawson and other colleges. His advice to fellow teachers looking to improve their teaching: "participate in Ped Days, take workshops, and most importantly, find a mentor. I have the opportunity to work closely with Carmen Leung, a colleague in the chemistry department, and we often try new things together. That way we can bounce ideas, debunk some glitches, and share our findings as we are learning. That has helped me a lot."
Yann feels lucky to work at Dawson because the College offers lots of opportunities. "I hope I will have the chance to work and share with many new teachers in the upcoming years," he said.