Students from two courses beautify Dawson's Living Campus
Physical Education teacher Paul Wasacz reported: "The Eco landscaping class was the second of its kind offered through the Physical Education department along with the Sustainability Office."
"Students learned about overall wellness and the importance of reciprocity.  If you take care of something, if you make a difference and improve well-being for all, those feelings of wellness can come back to you in droves.
"They learned that Physical Education does not have to look, be or feel like many marketing campaigns that really pitch high energy and competitive tasks. Working outdoors, gardening, listening, and participating in the natural world can benefit people in so many dimensions of wellness.
"They were able to completely renew the Peace Garden and clean up the Living Campus by weeding, spreading mulch and planting many new plants.  They also performed a Bio Blitz with Brian Mader to add species to the 1,000 Species in 1,000 Days initiative.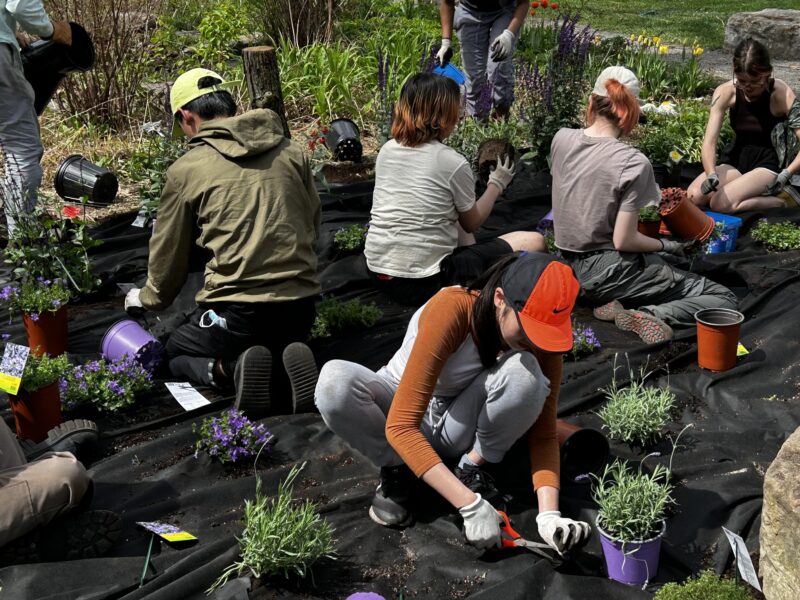 "They were exhausted by the end of the two days but in reflection they felt like they made a difference. They felt like they worked out, created a space for our community to enjoy, and created habitats and eco systems for many species that call Dawson home."
Teacher Adam Kingsland in Mechanical Engineering Technology reported that the birdhouse project was made for his Emerging Technologies course, which is listed on the Environment and Sustainability Certificate. Adam says: "The birdhouse project was just one of nine unique projects completed by third-year Mech Tech students. The birdhouse stands out, seeing as it's centrally located in the Peace Garden." There were also eight other excellent campus-focused environmental engineering projects.
The Mech Tech students described their project: "birds have less and less space to live. Building these birdhouses gives them a place to nest and reproduce. By using recycled materials, this project also aims to reduce waste by reusing it to house these endangered bird species."
Pictured below:
from left to right: Adam Kingsland, Faculty, Mech Tech and his two students Robyn Meehan-Mansi and Jeremiah Austria.