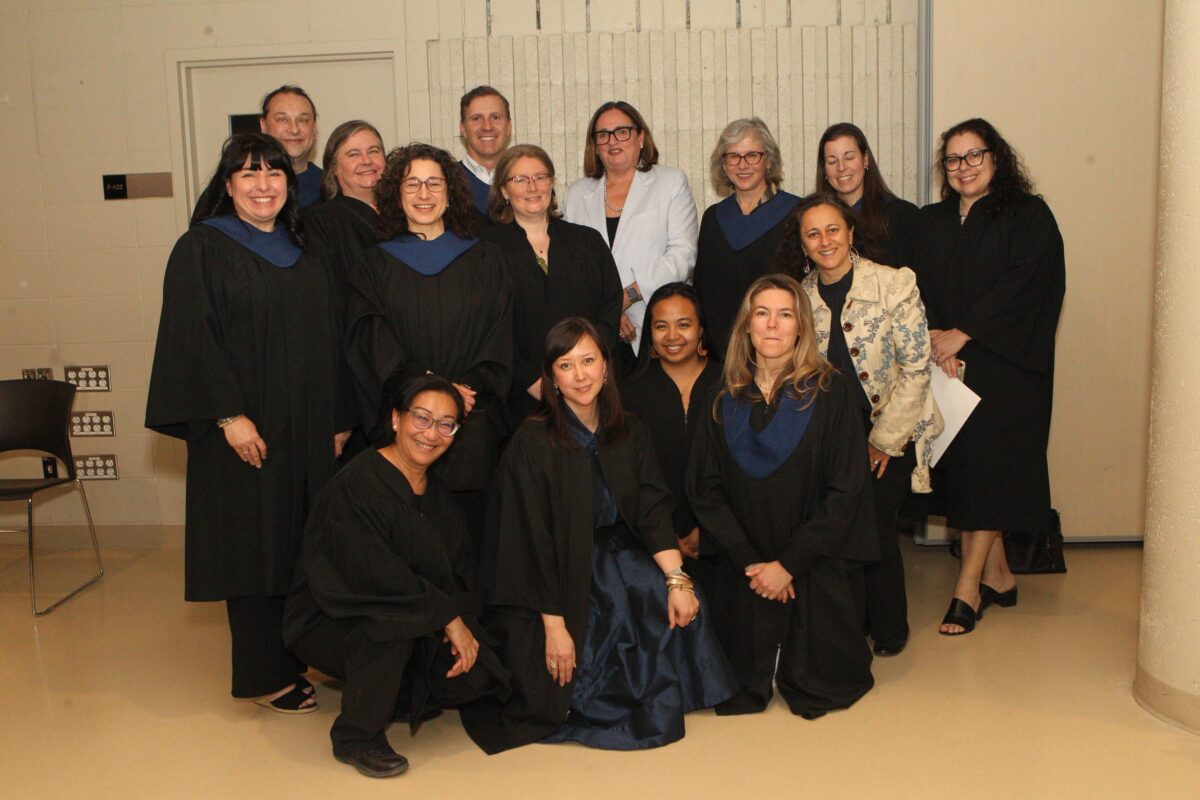 #DawsonProud, Human Resources, Professional Development
Big cohort from Dawson receive Performa certificates
There was a large delegation from Dawson to the Performa celebration evening on May 18. Faculty and professionals from the English CEGEPs who had completed various levels of the professional development program over the last four years received their diplomas at Champlain College.
We are so #DawsonProud of our colleagues! Director General Diane Gauvin attended to celebrate with those who completed their M.Ed. in College Teaching (pictured with blue shoulder sash): Vanessa Gangai, Alison Gelinas, Caroline Haddad, Mary Hlywa (retired), Mark Mattei, Vincenza Pascale and Andreas Tsatoumas (no longer at Dawson).
Others in the picture or not present were celebrating the completion of either the Graduate Diploma in College Teaching or the Graduate Certificate: Laura Abbatiello (pic), Krista Bulow, Jessica Cadieux, Tommy Diamantakos – GDCT, Louisa Hadley (pic) – GDCT, Marilyn Hosein, Irene Kakoulakis, Maria Lavoie – GDCT, Anne Marie Legault – GDCT, Lei Lopez (pic) – GDCT, Maureen MacMahon, Heather Martin (pic)– GDCT, Sherry McMillan – GDCT, Dimitrios (Jim) Parthimos, Catherine Roy, Wen Shen (pic), Kim Webb – GDCT, and Stefano Di Lollo (no longer at Dawson) GDCT.
 PERFORMA (Perfectionnement et Formation des Maîtres au Collégial) is a program in the Faculty of Education at the University of Sherbrooke, providing a network of professional development offering in college education. It offers graduate level certificates, diplomas and degrees in college-level teaching for current CEGEP teachers and educational professionals at a part-time pace to accommodate college-level workload. Performa programs include both French and English streams.
In the English stream, college teachers can enroll in the Master Teacher Program to work towards the Graduate Certificate in College Teaching (GCCT) of 15 credits, which can serve as core credits for the Graduate Diploma in College Teaching (GDCT) of 30 credits. Obtaining 15 additional core course credits leads to the completion of a Master of Education in College Teaching (M.Ed.) of 45 credits.
If you are interested in pursuing courses starting in autumn 2023, contact Azra Khan, Dawson's Performa Local Representative, before June 13.