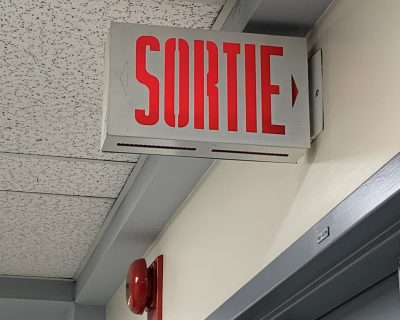 Be prepared for upcoming drill and emergencies
Do you know what to do if an emergency arises at Dawson College, either at the main campus or at the Montreal Forum?
It's time for all employees and students to ensure you are familiar with the College's emergency procedures. There will be an evacuation drill this semester. An All Dawson email will be sent to give advance notice to all employees of the date range for the annual drill. The date is determined by the Montreal Fire Department and must be a surprise.
What you need to know:
For any emergency on campus, including medical, call Campus Security by dialing 1000 on any college phone, including emergency phones (check evacuation plan posted in College corridors for phone locations). If calling from your mobile phone, call 514-931-8731 and dial 1000 as soon as your call is answered.
Learn where the nearest exits are to your classrooms and offices.
Follow the instructions of College marshals and monitors (wearing fluorescent vests).
Dawson's meeting point in the case of evacuation is Alexis-Nihon Mall or if unsafe, meet at the Hall Building of Concordia University (1455 de Maisonneuve Blvd. West).
Know the emergency procedures: https://www.dawsoncollege.qc.ca/facilities-management/emergency-procedures/