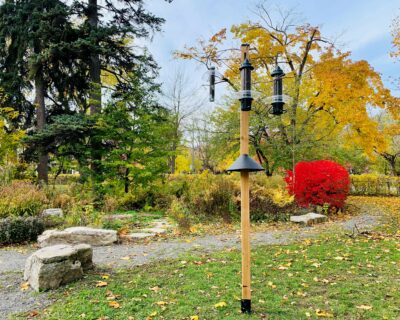 New bird feeder installed in Peace Garden
Chickadees and nuthatches have already been spotted at Dawson's new bird feeder, installed in the Peace Garden in early November.
"We hope to attract 15-20 species over the winter," said Chris Adam of Dawson's Sustainability Office. Chris made the bird feeder and installed it with help from Phys. Ed. faculty member Doug Smyth, who is also an avid birdwatcher and photographer.
The 10-foot-high untreated cedar bird feeder will be up year-round and holds a variety of seeds high in protein, restocked by student volunteers. A separate suet feeder on the nearby ash tree snag is a much-needed source of fat to non-migrating birds.
Special thanks to a group of Mechanical Engineering Technology students who made a squirrel and raccoon baffle so animals can't climb to the feeders or jump up over it. Snow will also be cleared around the bird feeder to prevent squirrels from raiding it.
Students and employees are encouraged to observe our bird visitors. Observations and photos can be sent to sustainability@dawsoncollege.qc.ca or you can drop by the Sustainability Office in 4B.3. Maybe you will be the one to identify and document the 53rd bird species to visit Dawson!