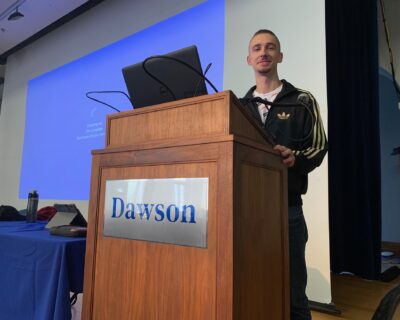 Humanities courses helped Dawson grad find his way and his why
What's the point? was the theme of the Humanities and Public Life Conference the week of Sept. 18 at Dawson and a graduate returned to answer this question in a most convincing way.
Andreas Nicolaidis-Gagnon (Class of 2022, Social Service) only met teacher Daniel Goldsmith after he took his Humanities course online during the pandemic. They continue to enjoy a lively discussion on What's App about the themes in the Enlightened Consciousness course. It was through this ongoing conversation that Daniel had the idea to invite Andreas back to Dawson to speak to students about the value of Humanities courses.
Visit the link below for the homepage news story.