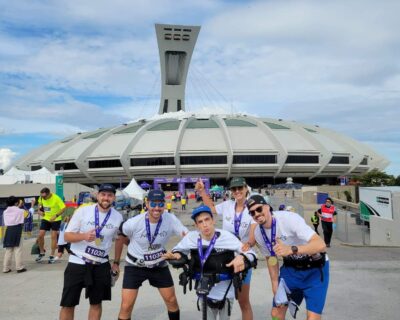 Bradley Heaven conquers marathon with "no limits" mindset
Bradley Heaven (Class of 2020, Social Science) and his partner Danny O'Connor are sharing their inspiring "No Limits" message with the world. Bradley and Danny created their organization All Access Life to do this. Despite being born without the ability to speak, control his muscles, feed himself, or do most routine daily activities autonomously, Brad's positivity and "No Limits" mindset allow him to live his life to the fullest. Brad never fails to constantly amaze and inspire everyone around him. Danny has been by his side as his aide since 2010 and is his partner in All Access Life.
"Dawson played a vital role in helping mold Brad's No Limit mindset," Danny said. They would like to share their latest project with the Dawson community. They trained for a year to run the Montreal Marathon and their goal is to raise enough funds to continue working on All Access Life and create content that empowers people with disabilities all over the world.
Click Read More to find out how you can help.