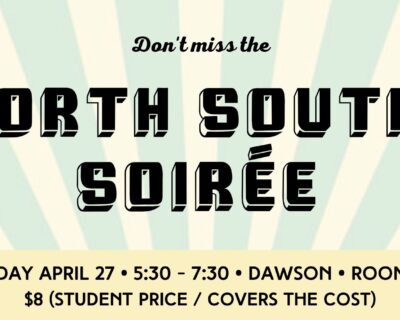 North-South Soirée on April 27 in 5B.16
On Thursday evening, April 27, it is finally time to come together, celebrate solidarity and raise funds to support NSS activities, including the 2023-2024 Field Trip to Cuba. It is a North-South tradition to have a community building and fundraising event once a year. In the past, we have held the Spaghetti dinner, the Gallo Pinto dinner, and the Viva Cuba event, and now we would like to invite you to the North-South Soirée on April 27 at 5:30 p.m. in 5B.16.
The evening program includes:
• A celebration of the North-South Studies history
• Introduction to the new Social Change and Solidarity Profile
• A retirement celebration for Tio David Olesik
• Student presentation of Field Trip experience to Cuba and Q&A
• Student Art Exhibit
Tickets are $8 for students and available at https://dawsoncollege.givecloud.co/product/North-South-Soiree-2023/north-south-soiree
Teachers, students, alumni, and friends and family of NSS are welcome!