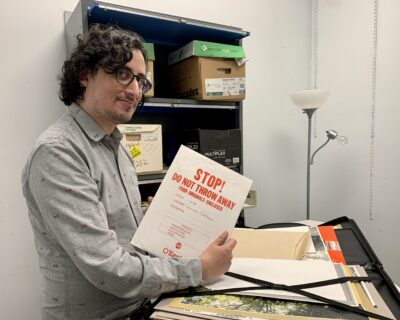 Your role in protecting Dawson's records
As summer approaches, you may be tempted to clean out a filing cabinet, or declutter a disk drive/SharePoint folder, but first please make sure you can do so legally.
As a public body, Dawson College is subject to the Archives Act and must retain its records in accordance to its government-approved retention schedule. All documents created or received in the course of the college's activities have a corresponding retention rule that sets out the amount of time these documents must be kept, and when/if they can be eliminated.
When records become inactive, some records can be destroyed while others must be preserved permanently as historical archives, even if they are have no current administrative, legal or financial value to the unit.
To familiarize yourself with Dawson's Records Management Policy, please check the retention schedule and contact the archivist, David-Marc Newman, at 1437 or dnewman@dawsoncollege.qc.ca if you have any questions, or would like help or training in records management.
You can find more information by checking out: https://www.dawsoncollege.qc.ca/governance/archives-and-records-management-arm/.
In addition to the Retention Schedule, you will find records managements tools such as the college's Digitization Policy (and form) that will be useful for any digitization project of paper documents; a guide to Naming Conventions for digital files and folders to help locate and identify them easily; and the Remote Work guidelines for best practices when working off campus to ensure documents and data are protected.