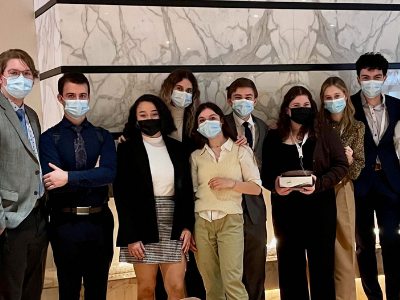 Another successful DCMUN season draws to an end
This year brought an exciting blend of in-person and online opportunities for the students in the Dawson College Model United Nations (DCMUN). They have continued to offer students an enriching para-academic experience, whether they be online or in-person, and they found a sense of community and belonging in DCMUN.
Their Executive team supported delegates in a fall training program that culminated in a successful winter conference season. Delegations attend national and international conferences, as well as several CEGEP conferences. Their delegates earned awards at every conference this season.
More importantly, they were able to engage in debate, discussion, and collaboration with delegates from a variety of contexts to find solutions to real problems facing the world today.
Photo credit: Julie Johnson
Caption: DCMUN delegation at ConMUN