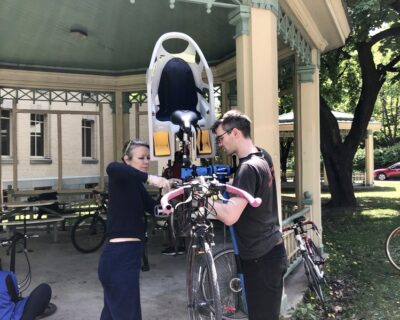 Students and staff learn bike maintenance skills at workshop
Students and employees showed up with their bikes to learn how to change a tire, adjust brakes and do basic tune up's on May 23. Mech Tech faculty member Adam Kingsland led an outdoor bike workshop.
Adam facilitates the workshops by ensuring all participants can get their hands dirty to benefit from the hands-on learning.
Jocelyn Parr (faculty, History) said: "I loved the workshop with Adam! It was accessible to all types of cyclists and it was the first time I'd ever changed my own brake pads. I left feeling like I might even be up to swapping out some cables and maybe even my derailleur!"
In addition, the Sustainability Office was able to form a partnership with local bike shop Martin Swiss cycle, just a 5-minute bike ride from Dawson. Simply present your student or employee I.D. and you will receive 15% off on all accessories. (Discount not applicable to bikes or labour)
Pictured: Jocelyn Parr (History) and Adam Kingsland (Mech Tech). Photo credit : Sophie La Font
To join our Active transportation team, send us an email sustainability@dawsoncollege.qc.ca