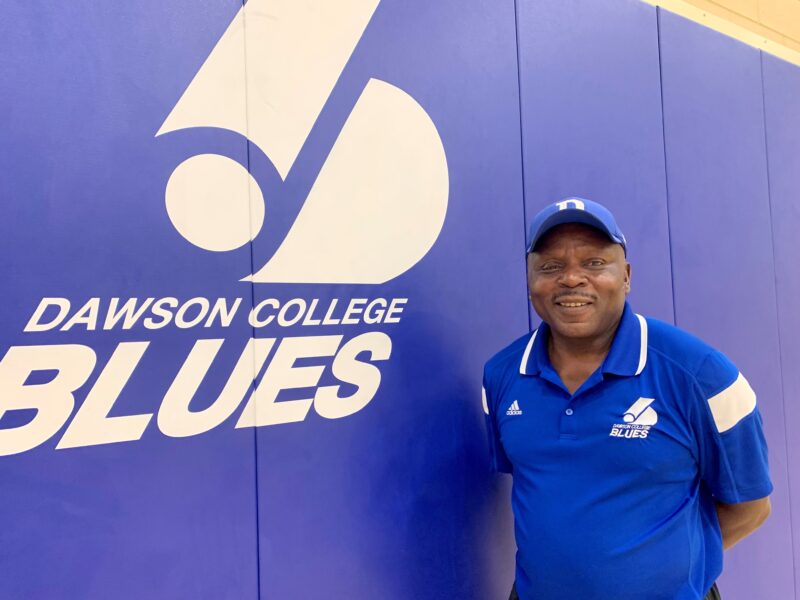 Basketball Hall of Famer Joel Tyrrell retires after 49 years of service
Joel Tyrrell arrived at Dawson in 1973 as a Social Science student and did not really leave until he retired on Aug. 19, 2022!
His career has been "very fulfilling and appreciated," he said in an interview with Dawson's Communications Office.
Joel has experienced all aspects of the Dawson Blues first as a student-athlete, then as a coach and recreation technician. He graduated in Social Science in 1976 and then went on to complete a degree at Concordia University in Exercise Science. All the while, he worked for Dawson while studying before becoming a full-time employee.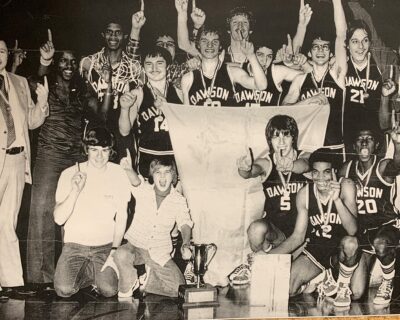 Joel has been such a big part of the Blues' history. He was an eyewitness and participant in the glory years of women's and men's basketball and even designed the Blues logo with Drago Kresevic, who retired in 2011 as Director of Plant and Facilities (now known as Facilities Management).
"I have worked with Joel for four years," said the head of athletics, Sébastien Rivest. "He is a legend in basketball and volunteering in Montreal. Joel is totally dedicated to young people. He is also affable and humble."
Showmart was the place!
Joel has so many fond memories of Dawson. The Showmart gym is the place where many of those memories took place. Now the site of the Bibliothèque et Archives nationales du Québec (BAnQ) the Showmart was Dawson's main gym and the "Home of the Blues" in the 1970s and '80s.

"It was a mecca in the city," Joel said. "Anyone who knew basketball flocked to the Showmart. Every day from 12 p.m. to 2 p.m., you could find a collection of students, teachers and staff playing basketball."
Some of those players included Trevor Williams and Wayne Yearwood, who are now head coaches of Dawson's Div. 1 women's and men's basketball teams. Others who played there included the 1980s Div. 1 women's basketball team, which Joel coached for two years when they were on a winning streak at the national level.
Successful teams
Joel believes that teams who succeed are those with athletes "who are committed to the task at hand and work as a unit."
He remembers the Little Burgundy Eagles as a successful team he coached. This teenage team went all the way to Amos and won at the provincial level. The team was later known as the Dawson Community Blues and now the Downtown Community Blues. Joel founded this program in 1973 so that children and teenagers could play basketball at Dawson. It was run in affiliation with the Little Burgundy Sports Association.
"We weren't expected to make it out of the preliminaries. That didn't stop us from going out and playing. They were an exceptional group of 12- and 13-year-olds, many of whom went on to play at the college and university level." One of the players was Trevor Williams.
Impact on young people
Joel has seen how basketball and other sports have had a huge impact on young people. In his office, he took out an envelope with favourite photos over his five decades with Dawson and the Community Blues. He pointed out players who went on to become doctors and lawyers and some went on to coach and work with kids like him.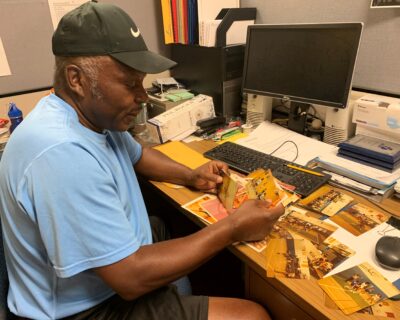 One of those who is following in his footsteps is Denburk Reid (Dawson Class of 2000, Marketing and Management Technology). Denburk, who was McGill's all-time leading scorer in basketball, is involved in education, coaching and social justice and will be playing a greater role in the Downtown Community Blues program as Joel stays involved but lets others take the lead.
Dawson has been Joel's second home all these years, he said. Joel will be back to see Blues games and believes the basketball teams will be peaking again. He may also be back helping coach Dawson's golf team, his second love after basketball. Joel plans to spend retirement "shortening winter by travelling south, playing more golf and enjoying life."
Over the years, Joel's dedication to young people and athletics has led to various honours. In 2021, he was inducted into the Canadian Basketball Hall of Fame and received a Lifetime Achievement Award from Montreal Community Cares.