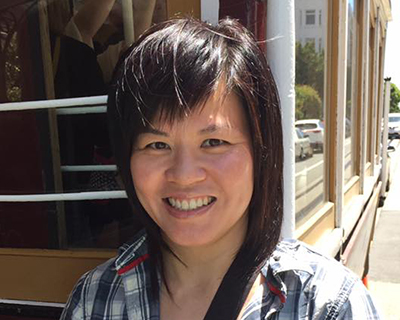 Carmen Leung recognized with 2021 SALTISE Best Practices & Pedagogical Innovators Award
Dawson Chemistry teacher Carmen Leung "dedicates herself to teaching in ways that keep her students engaged and she contributes to all aspects of College life," reads the announcement from SALTISE.
This week, Carmen will be honoured with a 2021 SALTISE Best Practices & Pedagogical Innovators Award at the SALTISE Conference happening June 2-4.
"I don't see myself as an innovator," she said. All I've done is learn from others and experimented in my classroom, sticking with what works for me and at the same time, things I believe students will find meaningful. Thankfully, my students are usually willing and patient to try new things with me. I'm humbled and honoured to be recognized by the SALTISE community and my colleagues who see me in this light."
Carmen's teaching journey
Carmen began teaching at Dawson in the 2013 winter semester after making a career switch from working in drug research and development.
"Teaching interested me because I would be able to interact with students, share my experiences and knowledge, and have an impact on them in just 15 weeks! That's a big difference compared to 12-15 years in drug discovery, the time it takes for a new drug to reach the market" she said. "I love teaching! Whenever I step into a classroom, I find myself at ease as I feed off the energy from my students. It is extremely rewarding to see my students smiling in class (on most days), and know that I am part of their journey at Dawson. Whenever I am able to convince a student that Organic Chemistry is actually cool and 'alkynes of fun', then I know I have succeeded that semester!"
DALC and SALTISE boosted confidence
Carmen, who has a master's degree in Organic Chemistry from the University of Toronto, found great support from colleagues in the Dawson Active Learning Community (DALC) and, SALTISE, in particular SALTISE S4-Chemistry.  "They gave me confidence and were people I could speak to whenever I needed guidance," she recalled. "They have made me the teacher I am now."
For over four years, she has been involved in the work of community-building as part of the Dawson Active Learning Community (DALC) and the SALTISE community of practice; and she has served as a SALTISE Fellow, providing mentorship to peers.
Carmen is also the co-coordinator of Dawson's Enriched Science Profile and her super ambitious students keep her motivated to improve her teaching practice. "I'm in awe of what my students have done. They have great ideas and initiatives. Our future is in very good hands!" she said.
When to take risks
With almost a decade of experience in teaching, she feels comfortable to take risks and try new things.  "When I am comfortable with a course, I can start to play. However, I do not recommend trying new things when teaching new courses," she advised. "When it comes to teaching, I always picture myself as a student and think about what I would want from my teacher, the course, and what I would find engaging and enjoyable."
Prior to the pandemic, Carmen and Dawson Chemistry colleague Yann Brouillette, who was also Carmen's DALC mentor, created a series of videos to prepare students for lab sessions. The videos are very popular with over 100,000 views. The video project has been on hold because of the pandemic but they expect to work on two more series in the coming year.
Over the course of the pandemic, Carmen has kept innovating to respond to challenges arising from new student needs and a new learning environment. She co-created eight at-home chemistry experiments to give her students a break from screen time and allow them some hands-on learning. The experiments are available on the SALTISE website here.
Pandemic innovation
In the SALTISE announcement, they also mention her extra efforts during the pandemic:  "Carmen Leung invested significant time and effort to design new ways to support and accommodate the new demands of online instruction for both students and colleagues. She co-created the Student Evaluation Survey, using myDALITE, to assess the needs of high school science students entering college and provide them with valuable resources to solidify their prerequisites."
Another reason she was selected for the award is that she champions innovative tools, such as myDALITE and CourseFlow. Carmen has co-authored over 600 questions for the online peer-instruction platform myDALITE and included them in her course curriculum and homework.
Carmen encourages other teachers to seek support and resources from the Communities of Practice. "Join a meeting and you may be surprised. Just try little things, one thing at a time. I think you will enjoy the feedback and interaction from using new approaches, like active learning. You don't have to figure out things by yourself. You can get a mentor to support you," she said.
Post-pandemic teaching and learning
Carmen thinks post-pandemic teaching and learning will benefit from all the adaptation and innovation of the last year and a half. "We have adapted and have access to resources we never used before," she said. "Looking ahead, I believe there will be more engagement and more active learning in our classrooms."
Note
Dawson Chemistry YouTube channel created by Carmen Leung and Yann Brouillette