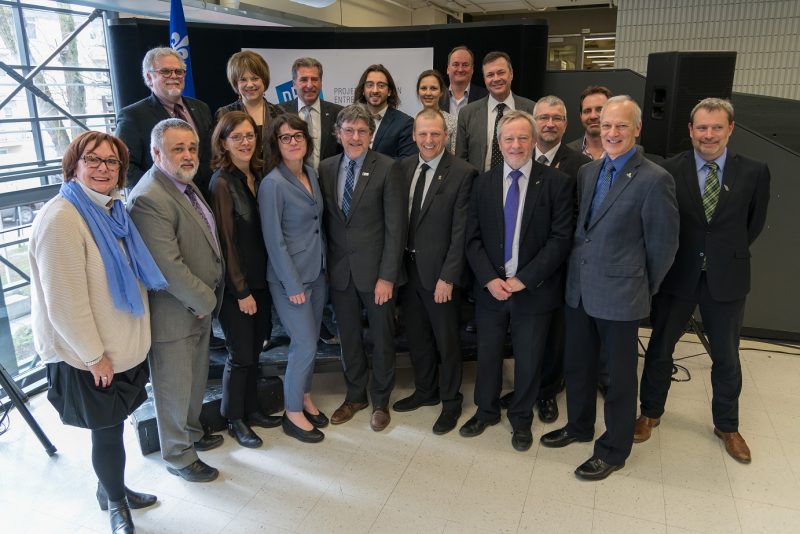 Dawson, 14 other CEGEPs to receive government support for entrepreneurial studies
Dawson is one of 15 CEGEPs from across Quebec to join forces to participate in an exciting new project called the Projet d'éducation entrepreneuriale au cégep, or PEEC, to develop and share expertise in entrepreneurship. Hélène David, Minister responsible for Higher Education made the announcement in conjunction with Directors General involved, including Richard Filion who spoke at the news conferece in Quebec City on May 3.
Promoting both academic and para-academic activities among their youth and young adults, these CEGEPs are demonstrating their commitment to an academic mission that seeks to contribute to socio-economic development in every region of Quebec. By helping students to develop their entrepreneurial skills, including fostering a culture of entrepreneurship and embracing the values and attitudes of the entrepreneurial spirit, the project acts as an incubator for entrepreneurs-in-training in collaboration with business partners.
Thanks to the support of the Ministère de l'Enseignement supérieur, these initiatives will be able to continue to grow until 2019 during the implementation phase. Complementing the system already in place through the school boards and in universities, CEGEPs can now offer a continuity of experience, for students seeking employment as well as those pursuing university studies.
The diversity of entrepreneurial activities within the CEGEP system is noteworthy: Cégep Limoilou offers entrepreneurial studies; Cégep de Trois-Rivières has set up an Entrepreneurial Zone for the co-development of entrepreneurs; and in Montreal, a joint initiative between Dawson College and Cégep du Vieux Montréal offers an education centre and workspace for creative entrepreneurs called iC MTL. For more information about Dawson's project: https://www.icmtl.ca/
The support offered to students does not aim to transform every student into an individual or collective entrepreneur, but to enhance learning opportunities and to espouse certain attitudes of the entrepreneurial spirit so it takes root for future projects and to encourage intrapreneurship.
Entrepreneurship among young people between 18 and 34 has increased by more than 5% between 2015 (36.6%) and 2016 (42.2%), according to the Fondation de l'entrepreneurship. CEGEPs certainly have a responsibility to support this movement and to provide students who wish to innovate and bring their dreams to fruition with the tools they will need, in various forms and different domains.
Stephanie Coco Palermo, a lifestyle blogger at VagabondHeels.com, was one of 22 creative professionals enrolled in the first cohort of Dawson College's Venture Creation in the Creative and Cultural Industries AEC program. Offered in partnership with iC MTL, the program helps artists monetize their ideas and their talent to become creative entrepreneurs. Click on the link to learn about her experience: https://www.dawsoncollege.qc.ca/centre-for-innovation-and-entrepreneurship-education/testimonial/