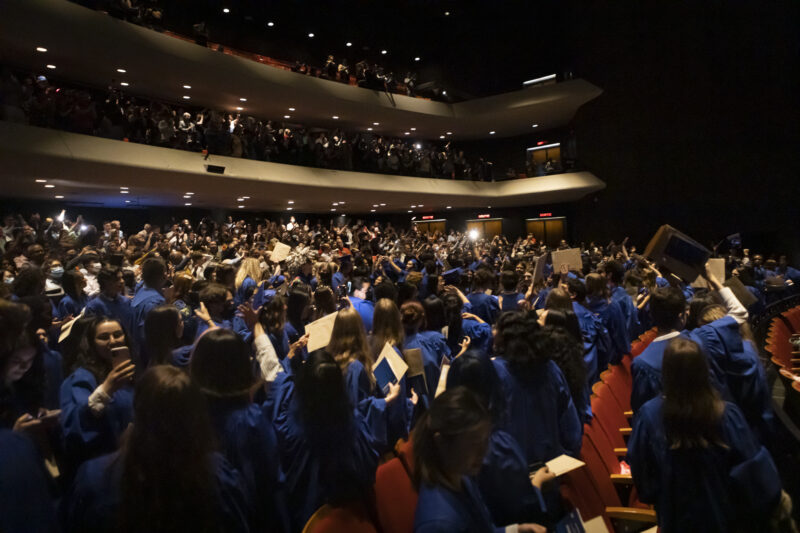 Dawson celebrates its largest graduating class ever
Nearly 3,000 Dawson students made up the Class of 2022, graduating from the College in the Summer and Fall 2021 and Winter 2022 sessions, making it the largest group of graduates yet.
Over 800 attended three ceremonies at Place des Arts on June 22. The Director General Diane Gauvin in her opening remarks reminded the audience that the first graduating class of Dawson in 1971 celebrated 640 graduates. In the 51 years since, Dawson's alumni has grown to 96,000 with this class.
The morning ceremony celebrated graduates in the Science, Medical Studies and Engineering sector; the afternoon ceremony honoured students graduating in all profiles of the pre-university Social Science program; and the evening ceremony handed out diplomas to graduates in the Creative and Applied Arts programs, and Visual Arts, and Liberal Arts and the Business Technologies, and AECs.
Leading the charge for change
Three valedictorians addressed the gatherings, speaking on behalf of their fellow classmates. Each one brought a different perspective to their speeches, though all three addressed the impact of the pandemic on their college education, citing uncertainty and isolation against a backdrop of online learning. But each one offered up lessons learned with humour, recognizing the courage and resilience that triumphed and ultimately sent a message of hope.
Megan Oleksiw (Enriched Health Science) rallied the crowd passionately for unrestricted access to education and told of how her love of the outdoors helped her and her classmates beat the effects of being cooped up inside during lockdowns.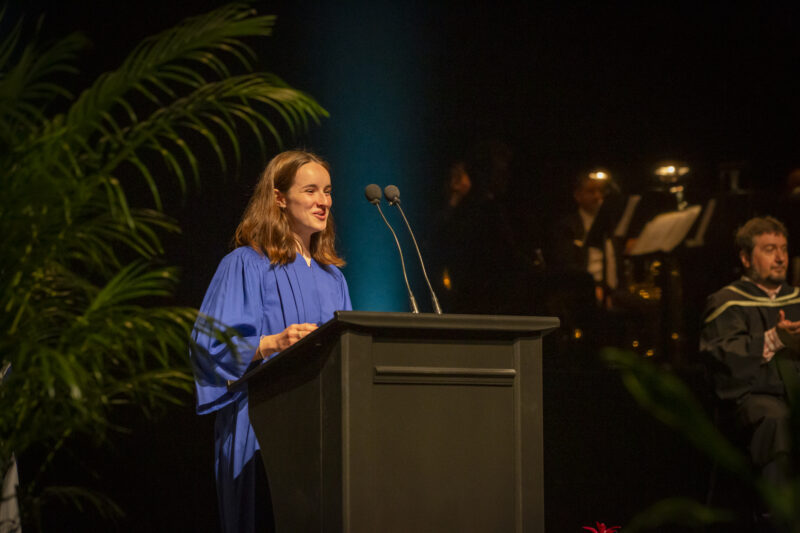 Linnea Nguyen (Law, Society and Justice, Social Science) incited her fellow graduates in Social Science to lead the charge for change saying "no generation has been better groomed or positioned to be warriors for justice and to lead the world."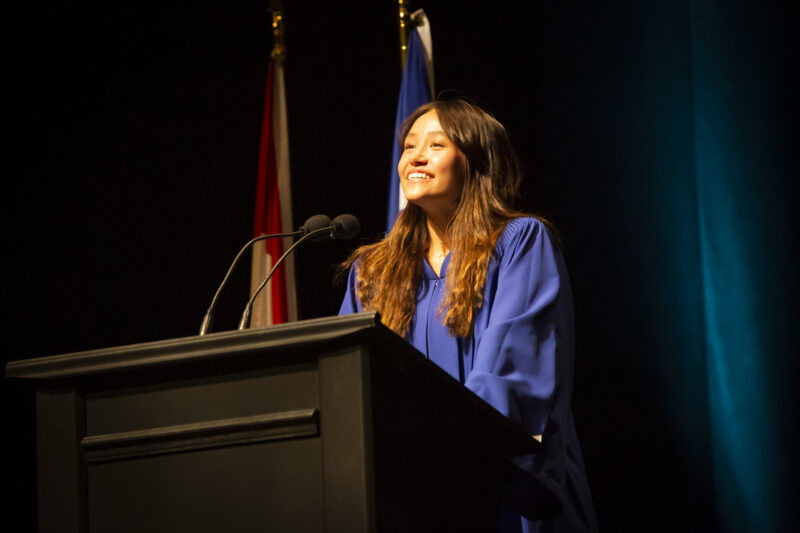 The evening valedictorian, Arwen Low (Liberal Arts), as Vice-President, External Affairs of the Dawson Student Union, had a busy year leading up to graduation. She was called upon numerous times to express the student body's frustration and concern after the cancellation of Dawson's infrastructure project and the passing of Bill 96.
Nevertheless. she used humour to frame the Dawson experience shared by graduates, and added a heartfelt testimony, saying "What unites us […] is our common experience at Dawson – the vibrancy, diversity, and excellent academic curriculum that first attracted us to the College, that we know and love. And that we will miss."
On a final note, she urged graduates to take care of others and themselves, too, including a quote from RuPaul: "If you can't love yourself, how in the hell are you gonna  love somebody else?" Her valedictory address can viewed below.
Say yes to adventure and challenge
The Director General's remarks summed up Dawson's wish for its graduates, and offered some valuable advice: "We hope you come away from your Dawson experience ready to take on the world. We believe you have been well-prepared. Don't forget to lead, to love, to laugh.
"Fall down, get up. Rage and cry against injustice. Love what you do. Help build a better world. Keep nurturing a consciousness that goes beyond your individual self and that embraces the whole.  And as Mahatma Gandhi said: Be the change you wish to see in the world.
"Say yes — yes to adventure, to challenge, to doing things that push you out of your comfort zone, to being brave and curious. Say yes to a full, rich, passionate life. Say yes to being a leader in your own way as well as being someone who helps others obtain their goals.
"We need leaders who feel empowered, not threatened, by science and technology, who are open to new ideas, who want every single person in the country to feel like they belong. Leaders who are strong but diplomatic, champions of women and girls, who are unafraid of those who are different from them. Leaders who criticize ideas but do not bully, who are strong enough to debate ideas, but who have dignity, and who afford dignity to others.
"I speak on behalf of all of us lucky enough to work at Dawson College in saying that we have been inspired by you. Inside and outside of classrooms, our students and graduates remind us of our potential to grow, to change, and to influence the world. Today, we see you off on the next phase of your life's journey. It is your turn to grow. It is your turn to change. It is your turn to influence our world. Be exceptional. Be unconventional. Be you."