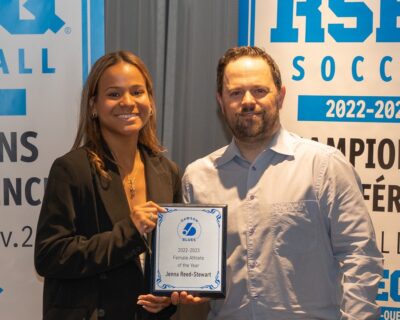 Dawson Blues celebrate a successful season at Awards Night
On April 21 at Le Nouvel Hotel in the Dorchester Room, our 17 teams brought their year to an end by celebrating all the success enjoyed during the 2022-23 season.
Organized by Gavin Sealy, Maha Haddad and Kayla Smith of the Athletics Department, the Awards Night featured two awards for each team selected by the coaches (typically MVP and Rookie of the Year). Additionally, there were a few awards handed out in which the winners were selected by the Athletics Department. These included Male and Female Athlete of the Year and Male and Female Academic Athlete of the Year.
The evening was attended by over 300 student-athletes and featured Master of Ceremony Geoff Kloos, Interim Director of Student Services, along with speeches by Sebastien Rivest, Manager, Athletics and Caroline Blouin, Coordinator, Student Services. Caroline also handed out the Academic Achievement Awards to the student-athletes who had maintained over 85 per cent and 90 per cent overall averages.
A special moment was a video featuring highlights of the six teams which did exceptionally well this season—Division 1 Men's and Women's Basketball, Division 2 Women's Volleyball, Division 2 Men's and Women's Basketball, and Division 2 Women's Soccer. Afterwards, the Blues then continued the celebration at Musique.
"It was an evening filled with great energy and positivity," says co-organizer Maha Haddad. "It was nice to see the athletes supporting all teams, not just their own. Was a great evening and the perfect way to end the season for the Blues. It is a sign of the good things to come for our Athletics program as we all felt like one unit."
Check out the full list of award winners.