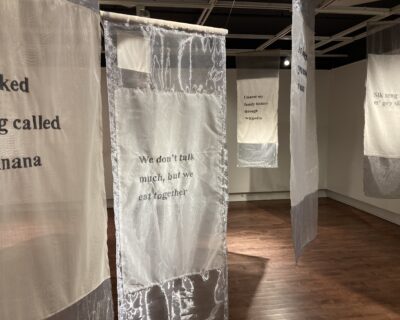 Florence Yee: Sharp Tools for Unripe Fruit
Florence Yee is a visual artist, Dawson Alum, and serial collaborator based in Tkaronto/Toronto and Tiohtià:ke/Mooniyang/Montreal. Their exhibition Sharp Tools for Unripe Fruit features photographs on fabric and hand-embroidered text, now on view at the Warren G. Flowers Art Gallery until April 14. On a recent Tuesday evening, two second-year visual art students, Sabrina Schmidt and Victoria Petrecca-Berthelet, had the chance to ask Florence (they/he) a few questions.
Click Read More to go to the interview.