Catherine Payne nominated as DALChampion
In celebration of its 10th anniversary, the Dawson Active Learning Community (DALC) has named 10 of its faculty members "DALChampions" in honour of their extraordinary contributions to innovating the classroom experience.
DALC is a group of teachers from various disciplines that strives to improve teaching and learning through Active Learning (AL) pedagogical practices, and the development, design, and effective use of complementary educational technologies.
This week, we invited DALChampion Catherine Payne (English Department) to share her experience with the community of practice.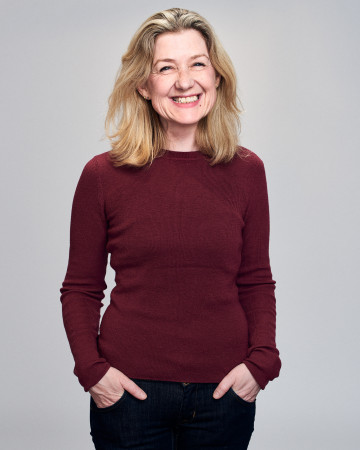 Tell us about your experience with DALC. What has been the best part? 
C.P.: Working with the DALC opened my eyes to the value of active learning. While I had been aware of the expression for as long as I had been teaching, I never really understood it in reference to advancing quality pedagogical methods that put students at the center of learning. Working with a cross-section of colleagues and teachers from a variety of disciplines allowed me to broaden my own teaching methods, experiment with new ideas, and receive assistance and feedback in a supportive and nurturing environment. Trying to isolate one 'best part,' is hard as my experiences were all linked together.
How do you think active learning pedagogy enriches the learning experience?
C.P.: I think that active learning as it is understood by the DALC puts students first. It enriches the learning process as it focuses on how students learn and how students keep knowledge once they have learned it. As it focuses less on the educator and more on the student, active learning pedagogy strives to create experiences and environments that encourage student responsibility and engagement in both individual and group settings. This is important because 'learning' is often misunderstood as the educator transmitting 'information' to the student. Active learning makes the distinction between receiving information and gaining knowledge.
How has adopting an active learning approach informed your practice?
C.P.: Active learning has fundamentally changed the way I educate. I do not see myself as the possessor of knowledge whose job it is to 'teach' students. By this, I mean traditional teacher-centred 'sage on stage' approaches. Instead, I see myself as a conduit whereby I show students how to learn and understand concepts and ideas. My practice now is about setting parameters and then encouraging students to explore ideas within this structure in a way that allows them to understand the material on their own terms and in a way that is relevant to them. When students see how a concept or an idea is applicable to them, I know I have done my job.