Social Science students pitch SDG projects for Dawson
As part of Earth Week, Social Science students from the Integrative Seminar class lined up in the Upper Atrium to present their research findings on Sustainable Development Goals (SDGs) in post-secondary institutions. Students were asked to look into how colleges and universities are working to meet certain SDGs, before relating them to Dawson with their own sustainable project ideas.
The Mighty Hook
Mariana Tropea, a second-year student, suggested what she calls the "Mighty Hook" project, which involves crocheting plastic bags together to create mats for people without housing. According to her, promoting mission-driven activities such as crocheting could help address issues of physical safety and littering around the Dawson community, combining both the "Good Health and Well-being" and "Sustainable Cities and Communities" SDGs.
"A lot of good could come out of that," said Mariana. "Studies show that crocheting can be therapeutic, and since we are on a busy boulevard, there is lots of trash that could be collected and used for this kind of project."
Tackling student food insecurity
Gabriel Joseph, who is also in his second year, tackled the "Zero Hunger" SDG through his research on food insecurity in post-secondary institutions. His findings underlined how food insecurity among student bodies can lead to lower academic performance and attendance. His suggestions to Dawson were based on Brock University's Food First Program, which provides students with gift cards, connections to off-campus communities, food banks, and community gardens.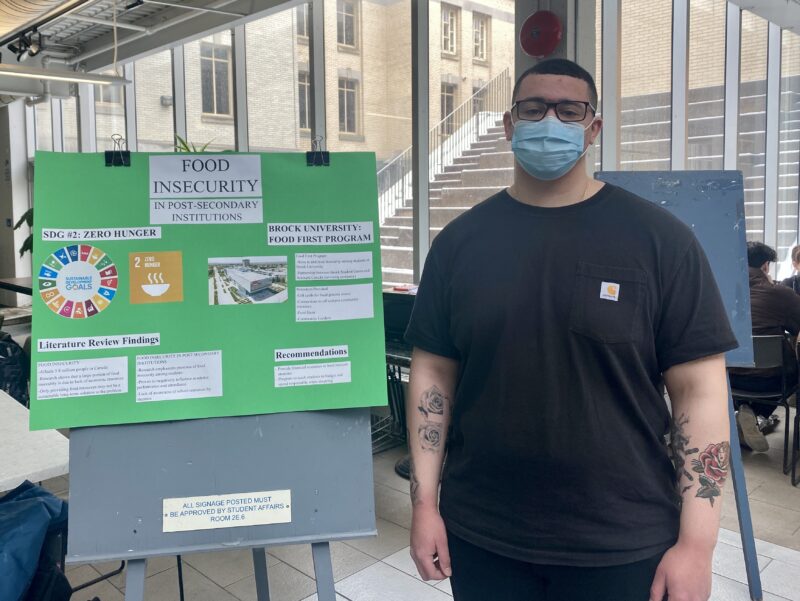 While Dawson does offer a food bank and snack centre to its registered students, Gabriel noted that quite often, students across institutions are not aware of their school's many resources, for which he stressed the importance of frequent communication. His project also found that students could use more financial resources, and programs to learn how to budget responsibility.
Towards a more sustainable campus
Second-year student Rebecca Assayag's project focuses on the "Industry, Innovation, and Infrastructure" SDG which concerns the design of sustainable and innovative infrastructure that does not harm its surrounding environment.
"Dawson has been working hard to make our campus more sustainable, […] but there is still much to be done," said Rebecca.
Her case study was on Wilfrid Laurier University's Waterloo campus, which has drastically improved the university's energy efficiency and conservation through the installation of LED lights, weather stripping (insulation from cold), solar walls and panels.
"Weather stripping is a really good idea for Dawson because of our location," she said. "It would allow us to use less cooling in the summer and less heating in the winter, which would not only save us money, but also energy all while reducing our ecological footprint."
Her final recommendation is the addition of wooden and recyclable chopsticks in the cafeteria which currently only offers plastic cutlery. She said that providing an alternative may help reduce plastic waste over time and improve campus sustainability.