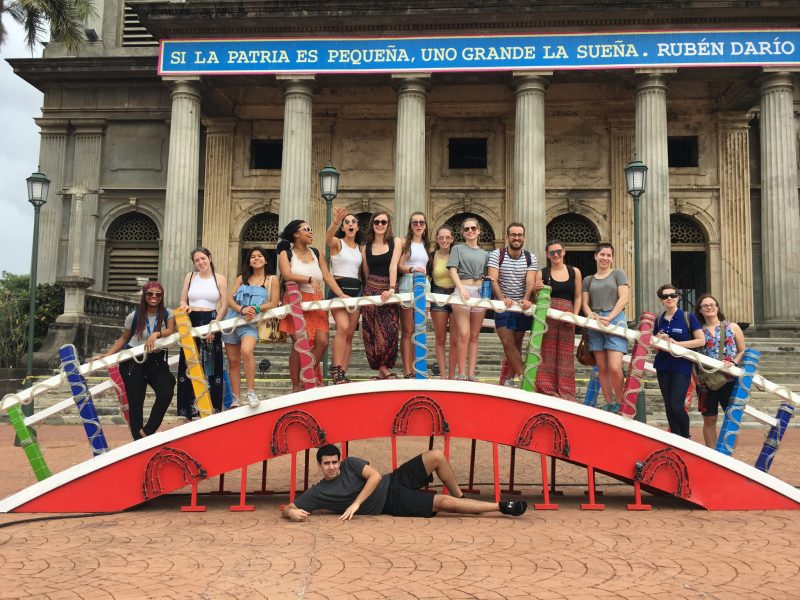 North-South Profile Students Return from Nicaragua
Students of the North-South Studies profile recently returned from a month-long social justice/solidarity trip to Nicaragua. The group travelled to the cities of Managua, León and Granada, but spent the bulk of their fieldtrip in small villages while living individually with local families. The villages included Las Pozas and El Carrizal in the western part of the country and Tuapi, an indigenous Miskito community on the Caribbean coast.
The fieldtrip, a credit course in the Social Science program, included over a dozen conferences with local political leaders, workers' rights representatives, an LGBTQ rights trailblazer and members of an indigenous women's group, among others. These conferences complement the three semesters of preparation the profile offers to familiarize students with the Spanish language, Nicaragua's political history and its troubled relationship with its North American neighbours.
In addition to the learning component, the students also carried down thirty donation laptops and bags of school supplies that were distributed to rural schools. Over the course of the trip they participated in work projects for which they fundraised prior to leaving in December. One project included the building of a road to a clinic with otherwise limited access during the Nicaraguan rainy season. The building material for this road was purchased with funds secured by the Dawson Foundation from the non-profit Comité Carlota van Schouwen.
Returning students will soon meet with next year's brigade to help prepare them as they embark on a similar journey in their final year of the profile.
More information about the North-South Studies profile can be found below:
North-South Studies profile brochure