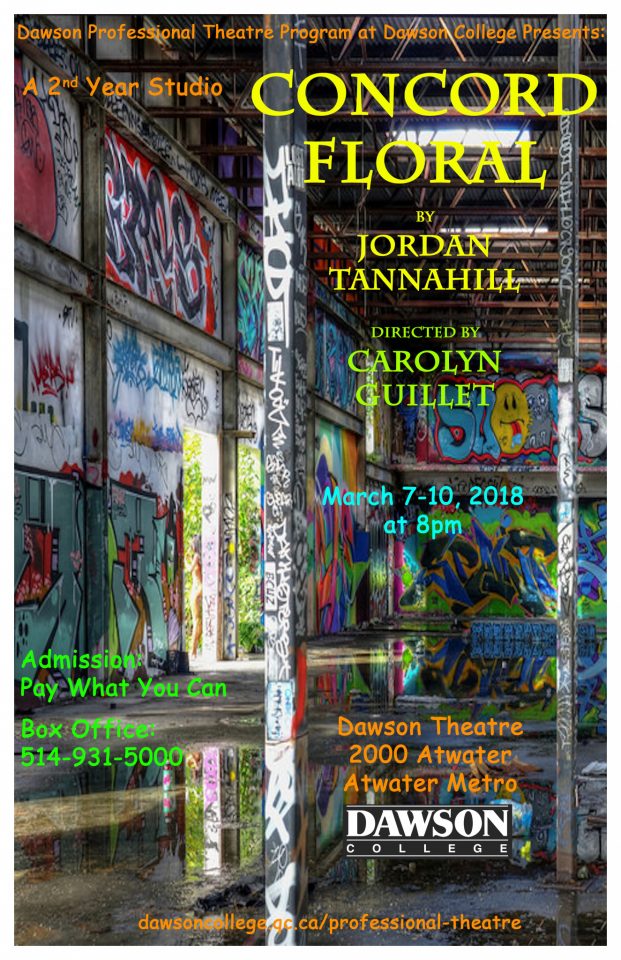 Concord Floral
Playwright: Jordan Tannahill
Director: Carolyn Guillet
Students: Fourth Studio, Year Two Group One
Rosa Mundi, Nearly Wild, and their buddies love to hang out at Concord Floral, a one-million-square-foot abandoned greenhouse, and a refuge for neighbourhood teens. It's a place all to themselves where they can be transgressive, throw parties, experiment, dream, dare, and come of age. But hidden inside is a secret so horrific, its discovery wreaks havoc, causing them all to wish to flee as if from the plague. This edgy play about teenagers today is a supernatural cellphone thriller, replete with text messages from the dead, colliding with conscience, cruelty, denial and morality. In this ensemble choral piece, we are masterfully led into a surreal and gothic suburbia by one of Canada's fastest-rising artists, Governor General's Award-winning playwright Jordan Tannahill.
PLEASE NOTE: THIS REPRESENTATION IS THE RESULT OF A CLASS WORK DONE BY STUDENTS IN THEIR SECOND YEAR OF THE THREE-YEAR DAWSON PROFESSIONAL THEATRE PROGRAM.
Times
Wednesday March 7th to Saturday March 10th at 8pm
Concord Floral was first produced in 2014 by Suburban Beast and presented by Why Not Theatre at the Theatre Centre (Toronto, ON). It was written by Jordan Tannahill over a three-year development process with Erin Brubacher, Cara Spooner and a group of teenagers from across the Greater Toronto Area. The original production was created and directed by Erin Brubacher, Cara Spooner, and Jordan Tannahill.
Concord Floral is produced by permission of the Author and Marquis Entertainment Inc. www.marquisent.ca