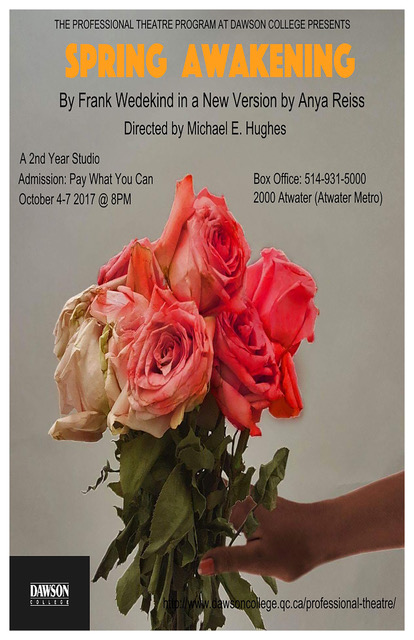 Spring Awakening
Playwright:
Frank Wedekind in a new version by Anya Reiss
Director:
Michael E. Hughes
Student Groups:
Second Studio, Year Two Group Two
Description
Unnerving, provocative power. This thrilling contemporary version by British playwright Anya Reiss examines the intensity and confusion of teenage life today. Under the hopelessly ineffectual mentorship of their parents and set within the pressure cooker environment of a results oriented school system, 8 youths grapple to understand the bewildering world of puberty as they navigate the most profound moments in their young lives. With unforgiving and refreshing frankness Spring Awakening asks important and necessary questions about how young people are shaped for their future by a generation that doesn't understand them.
Please be advised: this production openly deals openly with sensitive issues such as sex, teen pregnancy, violence, pornography and suicide.
Times
Performance Dates:
Wednesday October 4th to Saturday October 7th at 8pm
Cast