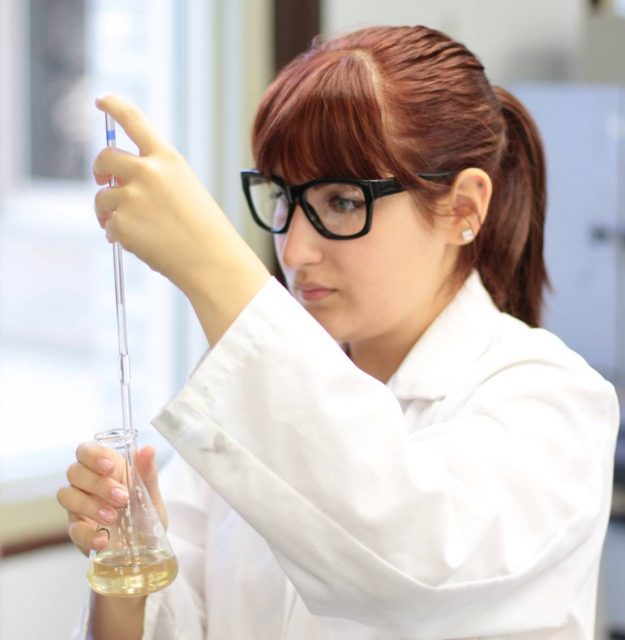 Are you interested in science?
Do you like working with computers?
Do you have good manual dexterity?
Do you pay attention to details?
Analytical Chemists are in demand!
Laboratory Technology – Analytical Chemistry is a three years technical program including 33 courses over 6 semesters divided into General Education and Concentration Education.
This program offers a large Choice of Careers: Pharmaceutical, Cosmetic, Petrochemicals, Agriculture and food, Environmental labs, Mines and metallurgy, Biotechnology, Aerospace and more!
Upon graduation, students can cumulate up to six months of work experience in the industry (students admissible in the Alternance Travail Études (ATE) program).
Why Laboratory Technology at Dawson?
Our program offers strong science background with emphasis on hands-on technology.
Main features: well-equipped laboratories, high teacher/student ratio, dedicated computer laboratories. Dawson is the only English CEGEP offering the program. Our program has close connections to industry, including remunerated internship through Alternance Travail Études (ATE) program.
Admission Requirements: Diploma of Secondary Studies (DES) with: Mathematics 564-506 or 565-506, Chemistry 551-504 | Overall average required: 65%.
Application deadline: March 1st (Fall semester).

Program Coordinator of Analytical Chemistry
Program Information
---
Objectives of Program
performing basic lab operations such as weighing, measuring precise volumes, heating, etc.
testing for harmful micro-organisms found in industrial samples
using conventional and modern procedures for the quantitative analysis and synthesis of organic and inorganic compounds
proficiency in standard techniques used in industry
using qualitative and quantitative methods to analyze samples in the biotechnology area
expertise in compiling and processing laboratory data, writing scientific reports and submitting results using computerized software
making products found in the marketplace
maintaining laboratory instruments
following GLP (good laboratory practice), SOP (standard operating procedures), and cGMP (current good manufacturing practices) compliance as well as respecting WHMIS (workplace hazardous materials information systems) regulations
---
Career Opportunities
---
University Programs