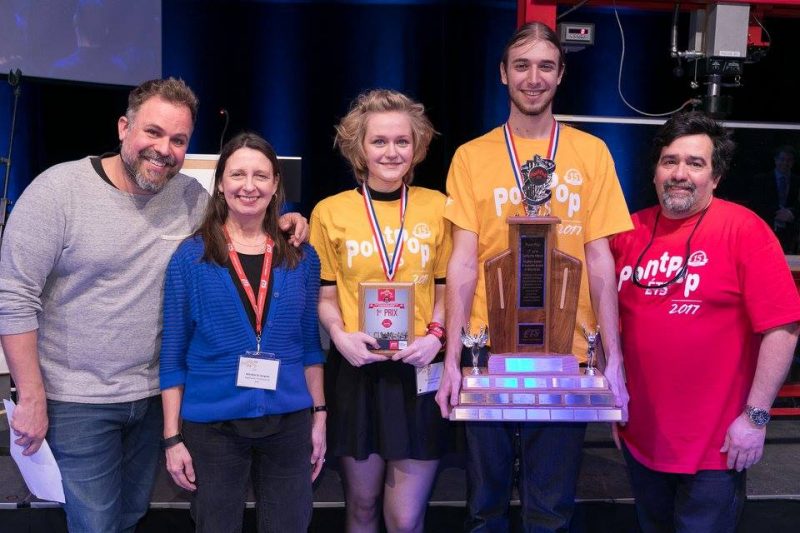 Dawson students win PontPop Competition for second year in a row
The annual PontPOP contest at École de technologie supérieure (ETS) is a province-wide competition where students must build scale model bridges using only popsicle sticks, glue and dental floss. The bridges are evaluated for their design, originality, aesthetic and their weight tolerance. Last year, Dawson Civil Engineering Technology student, Vlad Danita, won overall first place. This year, Dawson stole the show again with Science program students Christian Ivov Ivanov and Alexandra Zajda not only winning first place, but also breaking the all-time weight record for the competition. The bridge was named the "Behemoth" due to its design philosophy and relatively large weight. It supported 5250kg while weighing 2.564kg. The former record for student-built bridges was around 4600kg, from a high school student in 2006.
Christian came up with his design in high school for the same competition 2 years ago but it originally had a flaw; the supports exploded prematurely at "only" 1600kg, a much lower weight than originally hoped. This year he decided to try again and started sticking his 2000 popsicle sticks together at his home using only sandpaper and clamps, so it ended up being a very crude (and not very pretty) build. This is why it took everyone by surprise when the rushed, poorly built bridge demolished the weight record by such a margin that it managed to score a high enough weight efficiency to win.
There is no denying, that the appropriately named Behemoth of a bridge accomplished Christian's personal goal from two years ago and stole the spotlight while leaving the judges in shock and awe. What seemed to amaze them most is how he used far simpler tools and techniques to build it when compared to other bridges and yet still came out on top by a long-shot, which may have been a deciding factor in winning first place.
Civil Engineering Technology also had a team competing this year with three students; Moustafa Elshebshirq, Michael Lacourse and Gasser Aly. The participants would like to thank S.P.A.C.E., the Science Program, as well as Jean Nagy for supporting them.
Check out the video at the 57:00 min mark and the 1:04 mark for the Dawson Teams.
https://livestream.com/accounts/4107919/events/7051643/videos/150395901