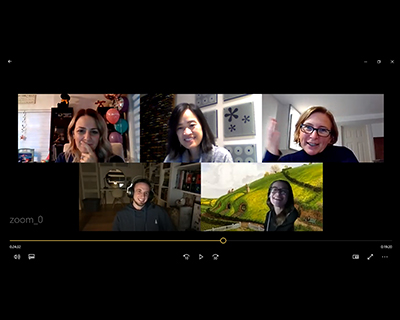 Dawson's first Virtual Open House a success
A Dawson College team worked for months to transform Open House into a virtual event.
"It was an amazing community effort during extremely isolating times," said lead organizer Lucy Segal of the Communications Office. "It was an enormous challenge to pitch something completely new, but everyone was receptive and despite new measures and limitations, I think we put our best foot forward."
Based on the number of printed handouts distributed, it is estimated that about 14,000 people attend in-person Open House. Virtual Open House was an experiment for all CEGEPs this year.
The numbers
The numbers demonstrate that Dawson's Virtual Open House was successful. The event, which was Oct. 20-25, mostly took place on the Dawson College website. Traffic to the website was up by 62%, compared to the usual web traffic this semester.
A total of 11,720 unique visitors stopped by the Open House landing page. "You have to imagine a student and their parents gathered together in front of a screen so we probably have a higher number of participants," Lucy said.
About 3,000 potential students viewed the program and profile videos an estimated 10,000 times. In addition, 950 potential students took advantage of the opportunity to chat live one-on-one and ask specific questions during scheduled chat events. The average wait time to chat was only 29 seconds!
No challenge will stop Dawson
"We have shown once again that no challenge is big enough to stop us from moving forward for the sake of our students," said Director General Richard Filion.
"I want to extend a warm thank you to the more than 200 teachers, employees and students who contributed to the event.  I would like to acknowledge the staff of the Communications Office who spearheaded this event and showed a lot of creativity and imagination to overcome the obstacles.  Kudos also to the Information Systems and Technology team and the many employees from other teams who put their shoulder to the wheel," said the Director General.
Science still popular
Science Program Coordinator Jonathon Sumner is usually the busiest person at Open House and this year, he was the teacher with the most chats. He appreciated the virtual experience: "It ran exceedingly smoothly and the one-on-one chat format seems to decrease the overall level of stress associated with our traditional event without compromising its goal of informing potential applicants," he said.
Jonathon believes that they spoke to less students than at the live event but that the quality of the interactions was better. "Applicants had time to ask their questions without the pressure of those waiting in line behind them.  I also have the impression that everyone asked all of their questions, which is not always possible in-person," he said.
In the future, he could imagine offering both online and in-person meetings.
Student experiences
CRLT student Justine Poulin also would like to keep the Virtual Open House elements when it is possible to hold an in-person event. She especially liked focusing on one person at a time and the efficiency of quickly transferring chats to other people when a different topic came up.
"I would still make all of the videos and information online available as they provide a lot of useful details and answers to the most frequently asked questions," Justine said.
Mechanical Engineering Technology student Nicholas Farinha appreciated that Virtual Open House could reach more people who are far away and liked using the video chat option. However, he felt that potential students would not get the wow factor of the program like he did when he visited the learning spaces.
A really good impression
Commerce Profile Coordinator Phil Ghayad felt that Virtual Open House was a better experience. "I think we gave a really good impression of the school by doing it this way," he said. "It is more efficient since we were able to cut down on wait times for potential students.  Usually, they wait about 20 minutes at our table. The longest wait time I saw was seven seconds."
Phil suggests that Open House be virtual in the future and when possible promote the Student for a Day experience for those who want to visit the campus and get a feel for the College.
Academic Advising reactions
The only people more popular than the Science team are the Academic Advisors. They are always highly sought out by students with many questions.
Academic Advisor Diane Wong did not miss the crowds that are usually a big part of Dawson Open House. "I thought that the team did a great job redesigning the program pages.  The videos with the FAQ's were very informative and well done," she said. "I think we should incorporate a few days of Virtual Open House for our next event.  We should hold the virtual days first so that people have a chance to ask their questions before an in-person visit."
According to Diane, the common questions were related to why a student should choose Dawson. She was happy to have students on her chat team to reply to these sorts of questions.
Fantastic videos and engaging content
Julie Pellegrino, also an academic advisor, fielded many questions about admissions. "I think Communications, IST, the Deans, committee members and all other members involved did a fantastic job putting together this event," she said. "The Dawson community came together to once again provide the best experience to potential applicants. The videos created for this event were fantastic. Content was informative and engaging."
Julie feels that she made good connections on the chat and felt that "students and parents genuinely seemed happy."
Raymon Fong from the 3D Animation and Computer Generated Imagery Program did not miss "repeating the same information over and over" and found Virtual Open House quite pleasant.
In the future, he would like to see both virtual and in-person elements part of the Open House experience.
Next recruitment activities in early winter
The Open House landing page and videos will remain accessible on the Dawson website until Nov. 30.
In February, the videos will be promoted again and new chat events will be scheduled in the lead up to March 1, the Dawson College application deadline for Fall 2021 admission.
Virtual Open House in numbers
186,000 page views of the Dawson website
62% increase in traffic to Dawson website
11,720 unique visitors to the Open House landing page
An estimated 10,000 Open House video views
950 live one-on-one chats
29-second average wait time for the chat
Participants from 17 countries
Average video viewer watched 70% of video