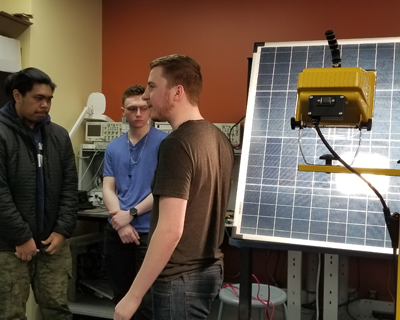 Electro Tech students power new community radio station in Mexico
Figuring out the power supply for a brand new community radio station in Mexico was one of the projects in the power electronics course referred to as Power Supplies, a second-year class in the Electronics Engineering Technology Program (Electro Tech) at Dawson College this past semester.
"Dawson's Sustainability Office hooked us up with a great project to power the new radio station in a sustainable way," said John Veroutsos, a teacher in Electro Tech. "I have never seen the students so engaged. A couple of nights we closed the building down and security had to ask us to leave for the night. They are getting to apply their knowledge to solving real-life problems."
John explained that the students designed, set up, tested and redesigned the solar panel system that fuels the station in an eco-friendly and sustainable way. On May 8, the students attended a special event in the CoLab at Dawson with special guests, the Director General Richard Filion, Academic Dean Diane Gauvin and members of the media to connect with the Mexican partners as RC3M (Community Radio of Tres Marías) was launched live using their technology. The radio station will play an important role in education and community development. Giving a voice to this small town will meet a major goal of rescuing traditions that are too easily lost in rural areas.
"This was a great project," said Electro Tech Co-Chair Boris Lorkovic. "We're glad that it was a great experience for the students as well as the teachers.  Hopefully, we can do more of these projects that link well with our competencies and educational goals."
Electro Tech is a three-year program that can lead to further studies in engineering or science at the university level or the job market. There are two broad areas of work: computers and networks, and telecommunications. The program is hands-on and is excellent preparation for the more practical engineering programs at Concordia and ÉTS.
Electro Tech's radio project was featured in the news. Check out the great coverage: