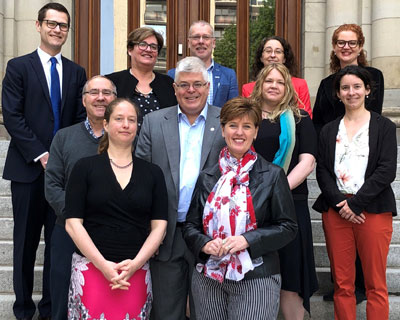 Food justice and sustainability in Montreal is on the table at Dawson College
MONTREAL (May 31, 2019) – A nourishing city where all, especially vulnerable children and families, have access to quality, sustainable and local food is a vision for Montreal that is being developed at Dawson College at the Forum SAM (Système alimentaire montréalais) Conference May 30-31.
In October, the Mayor of Montreal, Valérie Plante, recognized the creation of a food policy council, a first for Quebec and a first for a francophone city globally. "We want to develop an integrated action plan, which is a co-creation of all the stakeholders," said Richard Daneau, spokesperson for SAM and Executive Director of Moisson Montréal. "We are hearing from community groups who are responding to food insecurity as well as producers, public health experts, businesspeople and environmental groups who all have a stake in this issue. We are bringing everyone together to develop a coherent approach to changing the food system in Montreal."
Dawson is hosting about 200 people representing a network of community groups, policy experts, elected officials, institutional actors and civil society organizations to discuss and provide input on an action plan for 2020-2022. The ideal they are pursuing is to have a healthy, diverse, affordable and sustainable diet for all Montrealers.
In 2018, Dawson Sociology Professor Anna-Liisa Aunio received $240,000 in funding from NSERC-SSHRC to run a Transformations Hub in Food Justice and Sustainability. The partnership project works with SAM on food systems issues. The project's goal is to build avenues of action to the challenges and costs of inequality in the current food system through support for local communities and organizations through events, technologies and applied research that is responsive to their needs.
"From my experience teaching on sustainability," Anna-Liisa said, "I learned from my students that food is one of the most direct and tangible issues of their daily lives that connects to broader issues such as climate change, inequality, and sustainability. While demand for action is necessary, we can also have a huge impact in making cities more sustainable by enacting changes in our lives and communities. We started on campus with gardening, but have expanded to think about the city as our living lab."
Well-being for all is one of four core values at Dawson College and the college has a Sustainability Office. The Office is responsible for promoting well-being for all through better waste management and stewardship of resources and also through providing activities, learning opportunities and projects for students, faculty and staff to practice sustainability and benefit from the positive health impacts.
Over the years, approximately 200 students and researchers at Dawson College have worked on food justice research projects to help advance the work being done by community organizations. One example of their work was an interactive food map. Students responded to a call by a community organization to map their local neighborhood, which then contributed to the development of the partnership grant to map the entire Montreal food system.
The Honourable Marie-Claude Bibeau, Minister of Agriculture and Agri-Food, came to Dawson to meet the people involved in urban agriculture at the SAM conference and she gave opening remarks before the plenary session on May 31 about access for Montrealers to healthy and local products.
"Our Government has committed to invest more than $134M for a Food Policy for Canada – the first of its kind in our country. Drawing from consultations with 45,000 Canadians, the policy will help communities access healthy food, produced in Canada, while reducing food waste. We will work to ensure the initiatives are adapted to each population, including seniors, families and Indigenous and Northern communities."
– Marie-Claude Bibeau, Minister of Agriculture and Agri-Food