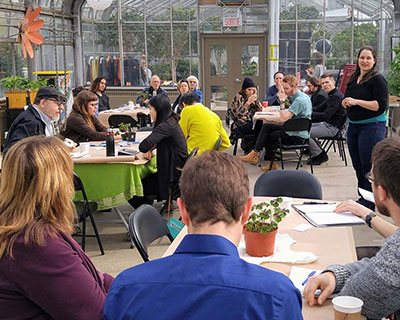 Food justice toolkit developed by Dawson researchers and local community organizations now available
Montreal, June 17, 2021  ̶  What issues are Montrealers facing daily when trying to put dinner on the table? The answers are as diverse as our neighbourhoods.
Over the past two years, citizens and community organizations in six Montreal neighbourhoods have been collaborating with Dawson's Food Justice and Sustainability Hub to improve access to healthy and local food for Montrealers.
As Montrealers enjoy the first local vegetables of the season, Dawson's Hub and the neighbourhood collaborators are ready to share the toolkit they have developed that can be used by any community seeking to build a more equitable and sustainable food system.
Reducing waste, taking stock and building relationships
Here are just a few ways communities have been able to improve their food systems using the toolkit:
Reducing food waste in Saint-Laurent
Getting a better idea of food resources available in Hochelaga-Maisonneuve
Creating relationships and understanding the needs of culturally diverse communities through food stores in LaSalle.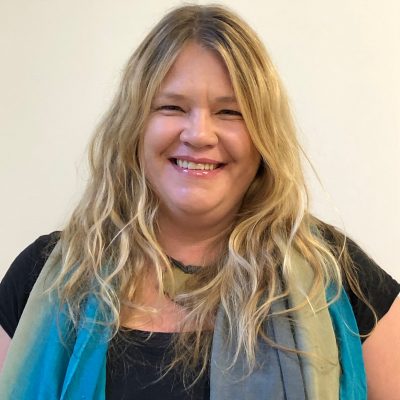 "The tools are easy to use and our hope is to share them widely so that we can support more equitable and resilient food systems," said Anna-Liisa Aunio, project lead of Dawson's Food Justice and Sustainability Hub. "Our work is about supporting and building community-based food systems that prioritize sustainability, ecological farming practices, reintegration of rural-urban communities and community autonomy over food choices. A food system includes access, recovery, urban agriculture, procurement, farming and distribution, and coordination of food systems."
Free easy-to-use tools available in English and French
The toolkit is available for free in English and French on the Sustainable Dawson website. "We invite community groups, local food tables, citizens and researchers to use these tools, modify them as needed and improve access to food in their own neighbourhoods," she said. "Take the time to read the brief neighbourhood snapshots and check out how each neighbourhood developed tools for their own specific needs and review their lessons learned."
The neighbourhood projects are still active, so the goal at this time is to share the tools and how they have been applied.
In the West Island, Dawson's Food Justice and Sustainability Hub has helped oriented the CRC (West Island Community Resource Centre) in the right direction. "They have provided a wealth of information and resources in order to better construct a picture of our food system," said the CRC.
In Saint-Laurent, a protocol that they have developed will allow them to quantify their food waste reduction efforts. "It will also have a positive impact on food insecurity in our neighbourhood. In the future, we will use the data generated by the tool as indicators to set food waste reduction objectives," said Catherine Cyr of the Comité des Organismes Sociaux de Saint-Laurent.
The development of these food system tools is the latest phase of collaborative food system research work, which Dawson's Food Justice and Sustainability Hub has been engaged in for the past five years. The Hub is led by Dawson Sociology teacher and researcher Anna-Liisa Aunio who teaches at Dawson College and includes other researchers and students. In each neighbourhood, the lead partner is a local community organization, often the Table de quartier.
This work was made possible through grants by the Natural Sciences and Engineering Research Council of Canada (NCERC) and the Social Sciences and Humanities Research Council (SSHRC) through the College and Community Social Innovation Fund. In turn, Dawson's hub gave six grants to the neighbourhoods. In addition to grants, the hub worked to build local capacity in neighbourhoods to help them advance their own goals.
"Often, researchers come in and study a community and no one knows what they are doing and how the research has been applied," Anna-Liisa said. "This project is unique because we are funneling academic resources into communities to serve them and meet the needs they have identified."
Empowering communities
The toolkit was developed in six neighbourhoods in Montreal: Saint-Laurent, Bordeaux-Cartierville, the West Island, Hochelaga-Maisonneuve, Eastern Montreal and LaSalle. "We are empowering communities to better understand and address their issues," Anna-Liisa said.
"We wish to acknowledge support from the Research Support Fund, which enables us to sustain a research environment that attracts talented teacher-researchers and facilitates partnerships and collaborations for research at the College," said Catherine LeBel, Dean of Academic Development, who oversees Dawson's Research Office.
Note
Resources
The tools and reports on each neighbourhood as well as an interactive sustainable food map of Montreal are available here:
In English: https://www.dawsoncollege.qc.ca/sustainable/food-justice-sustainability/
In French: https://www.dawsoncollege.qc.ca/sustainable/recherche-justice-et-durabilite-alimentaire/
Acknowledgements
Dawson's Food Justice and Sustainability Hub worked with both community and academic partners: McGill University (MCCHE, IHSP, CRIEM); FLEdGE (Food Locally Embedded Globally Engaged); Conseil-SAM; NDG Community Council; Verdun sans faim (led by Grand Potager); Cultive ta ville; Alternatives; and several university researchers from McGill University, Concordia, Université de Montréal, and UQAM. Internal Dawson College partners include Dawson's Peace Centre and Sustainable Dawson.
Interviews can be arranged. For more information, please contact:
Christina Parsons
Dawson College; Communications Office
cparsons@dawsoncollege.qc.ca ;  514-949-9183