Despite spending her first year of CEGEP online, Liberal Arts student Arwen Low was quick to get involved in the Dawson community life. Her efforts in making a difference for her fellow students have led to her nomination as valedictorian. She will be addressing Dawson graduates in Social Science & Business Technologies of 2022 at the 7:30 p.m. Graduating Ceremony on June 22 at Place des Arts.
"I'm thrilled!" said Arwen. "I feel really honoured to have this as the capstone to my rich and meaningful experience at Dawson. I feel so grateful for all the teachers, advisors and fellow students who encouraged me to surpass myself, both in terms of academics and service. I don't know where I'd be without the support of the communities I've found at Dawson."
A Liberal Arts advocate
Arwen instantly knew she wanted to join Dawson's Liberal Arts Program after attending Student for a Day, where she met other energetic and engaged students.
During her first semester, Arwen was chosen as a peer mentor for her fellow first-year students. She served as an executive member of the Green Earth Club, secretary of the Dawson Feminist Union, and delegate for the Model UN team.
In spite of the pandemic and having both classes and extracurricular activities held entirely online, she was able to meet others with shared social affinities, which she describes as "the foundation for deeper friendships."
In her second year, Arwen became the President of the Dawson Model UN team, where she led a 50-member team. She also served as the Vice-President of External Affairs for the Dawson Student Union, representing over 10,000 Dawson students to community aid organizations, non-government organizations, and government. In recognition of her community leadership, she was recently honoured with the 2022 Lieutenant-Governor's Youth Medal.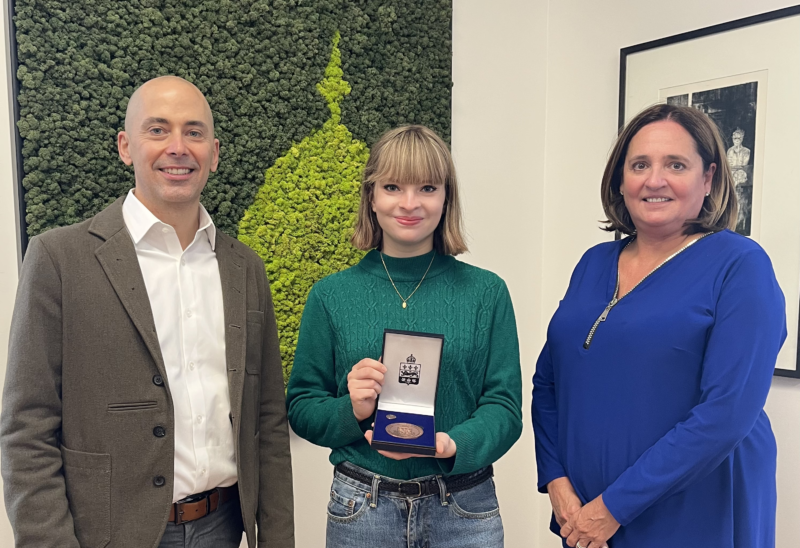 "I'm so thankful for all of the leadership opportunities that Dawson has offered me, from speaking at the National Assembly in favour of our expansion project to leading a protest against Bill 96," she said. "These opportunities became an experiential education in politics and communications that I couldn't have anticipated on my first day of school. I really couldn't have picked a program or a school that pushed and excited me more."
A pleasure to work with
"Arwen's analytical skills are impressive, and her enthusiasm, modesty, and good nature make her a pleasure to work with," reads English teacher Amanda Cockburn's nomination letter, who taught the student in an advanced Liberal Arts Shakespeare class. "She has all the intellectual qualities, as well as the energy, humour, and insight necessary to ensure that she will produce an original and important valedictorian speech."
CEGEP amid a pandemic
In her graduation speech, she wishes to celebrate the strength and resilience of the Dawson students, many of whom spent half their CEGEP experience online due to the pandemic.
"I want to make sure I acknowledge that hardship while highlighting the moments of connection that we've shared," she said.
Additionally, she hopes to inspire her cohort to get involved and contribute to the well-being of their communities, emphasizing that "their voices matter."
"I think the pandemic has renewed our understanding of the importance of other people, and I hope my speech will honour the communities found and created at Dawson," she said.
A diverse and unifying experience
Arwen describes Dawson as "large, diverse, and unifying," where her experience was marked by the passionate students, teachers, and staff who have inspired her while making her time "memorable and purposeful."
"When I look back on my time at Dawson, what I'll remember most are the conversations I've had with these people: office hours with personable and caring teachers to discuss my future, catching up with club members before strategizing about climate mobilization, joking around with fellow DSU executives during downtime at the office, inter-department meetings where we coalesced around common goals, etc."
Future plans
Following her desire to gain a better understanding of political systems and policy, Arwen will be studying political science at McGill University in the fall and wishes to pursue a career in law.