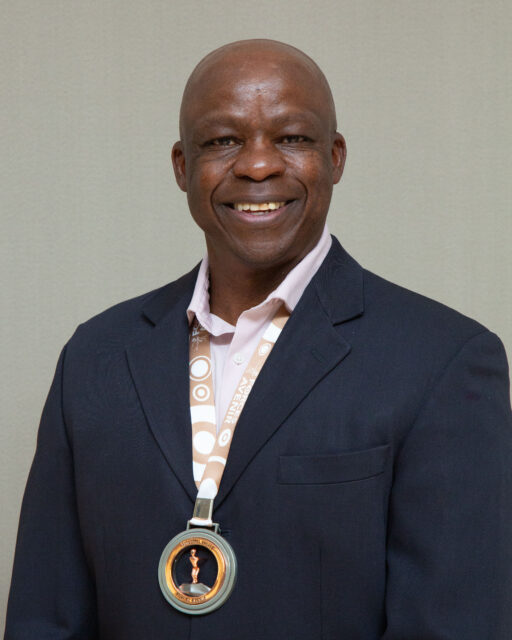 Simeon Pompey, Superman
It is a testament to a man's popularity when the mere mention of his name brings a smile to everyone's face followed by a cry of "he's so great!"
Simeon Pompey's reputation is not based only on popularity, but on his strength of character, his dedication to his students inside and outside the classroom, and the motivation to succeed he inspires in others.
Simeon's accomplishments were recognized on May 4 at the local celebration of the Forces Avenir awards program. Surrounded by family, friends and current and retired colleagues, he was presented with the Committed Faculty award.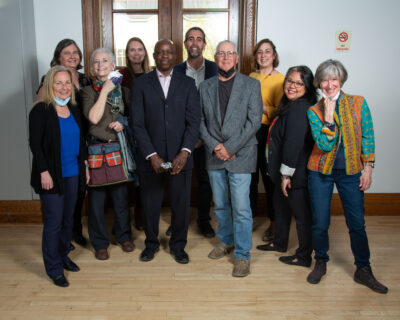 Upon learning that he had been nominated, he said: "Forces Avenir is a prestigious award and just to be considered is absolutely amazing. I am extremely humbled by the award. It was my peers in the Community Recreation and Leadership Training department who nominated me; being recognizes by your peers for such an award is very special to me."
His Dawson career began as a student. In 1978, he took a leadership course with longtime program coordinator Dave Nagels, now retired. He had applied to work at a summer camp in NDG on the street where he lived, helping children and families. It was the combination of the job and his education that made him realize there was a career doing what he loved.
Leading with innovation and enthusiasm
He pursued Social Science at Dawson followed by Economics at Concordia. While working managing facilities for the City of Montreal, a part-time position opened up in the Community, Recreation and Leadership Training program.
Since that fateful day, the CRLT area on the third floor has been a hive of activity with hundreds of students who have benefitted from Simeon's innovative and enthusiastic guidance, participating in learning and leadership activities.
Apart from his teaching duties at Dawson, he is very involved in his community, helping Comité Jeunesse NDG by delivering recreational services in three recreation facilities, six summer day camps and hundreds of programs and activities. He serves on the governing board of Marymount Academy, the board of the Snowdon Recreation Association, is a member of the Oliver Jones Music and Community Outreach committee, serves as a member on the Italian Week planning committee in NDG and helped to found the Table Jeunesse NDG.
He is also the golf partner everyone wants on their team.
Parents were inspiration
Simeon credits his hard-working parents for instilling core values in him and his seven siblings. They worked hard to provide for them, his father as a janitor and his mother cleaning homes. He says they inspire him every day in everything he does.
"Four generations removed from slavery, I shoulder the burden of the struggle," he said. "I owe it to my great-great-great grandparents to take full advantage of this wonderful opportunity to be a contributing member of a great institution as Dawson College and society."
He takes the lessons he learned from his parents and shares them with his students when they seek his wisdom and encouragement. "I tell them to take full advantage of the opportunities given to them in our society. Not all students have means to continue their education beyond high school. I encourage students in CEGEP to continue their studies, even if they are unsure of the path to take."
Helping generations find their passion
Along with his wife Alison Brown, also an educator with the Lester B. Pearson School Board, they work together to help not only their own two children, Sienna and Jarred, find their passions and develop their skills, but entire generations of young people.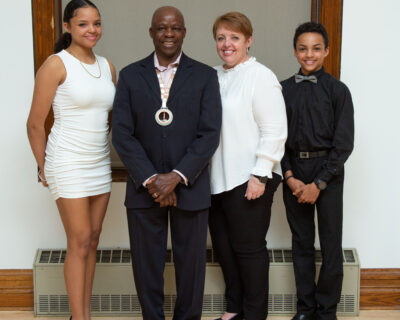 What makes someone everyone's favourite teacher, colleague, friend, golf partner and human being? It has to be Simeon's positive outlook on life and gratitude that he has been able to share his passions with his students.
"It is a dream come true to be working as a CEGEP teacher. I wake up every day looking forward to teaching and interacting with the Dawson College community. One of my philosophy is to build bridges, so each day offers that opportunity."