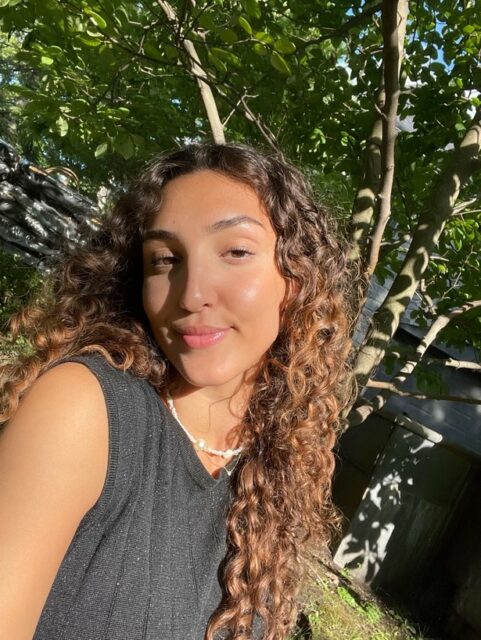 Support from AccessAbility Centre and caring community leads Anastasia De Sousa recipient to McGill
Kenza Bennani struggled at school since she was a kid. She thought it was because she didn't like school.
"When I was 13, I was diagnosed with ADHD and dyslexia," she said in an interview with Dawson's Communications Office. "Suddenly, everything made sense and I was able to get better support in school. I had tutors and specialists helping me all throughout high school."
Great support at Dawson
Kenza was concerned that she would be lost at CEGEP without her high school support. "Luckily for me, that wasn't the case at all," she said. "I found great support at Dawson, especially through the team over at the AccessAbility Office. They made evaluations, such as exams or essays, accessible by allowing me to write on a computer, have extra time and be in a quiet room."
At the beginning of CEGEP, Kenza received another diagnosis, fibromyalgia. "I struggled the most to physically attend classes and have energy to study. I think that's where I had to really persevere and make a lot of sacrifices in my personal life, to prioritize my education."
Perseverance and engagement
Marinée Kavoukjian of Dawson's AccessAbility Centre provided support to Kenza and said she persevered throughout her time at Dawson. "In my conversations with her, she seems to be an engaged learner. She is self-aware and proactive," Marinée wrote in her nomination letter for Kenza to be considered for the Anastasia De Sousa Memorial Award, which she will receive at Dawson's Graduation on June 22 at the 7:30 p.m. ceremony for graduates of Creative and Applied Arts programs.
"Being nominated meant a lot to me, but I never thought I would win," Kenza said. "I figured, there are so many other hard-working and deserving individuals at this school! Finding out I won was quite surreal. I re-read the email like five times to make sure I was reading it right. It's such an honour, especially since this award is in tribute to Anastasia De Sousa. I already knew about her story, prior to my nomination, but I had no idea that her family organized this fund. What a great way to honour her memory. I am truly overcome with gratitude."
Kenza has completed a DEC in Arts, Literature and Communication in the Arts and Culture Profile. "I loved going to Dawson and I'm honestly going to miss it a lot," she said. "I think the best part of my experience is the people I met here: students, teachers and faculty members."
Gratitude
What Kenza appreciated the most was being part of a kind and caring community. "Given my chronic illness and learning disabilities, I require certain accommodations in school, which I have to discuss with my teachers," she said. "Due to some negative experiences in the past, I'm always afraid of how a teacher will react to my request for accommodations. I'm so grateful for the kindness several of my teachers here at Dawson have shown me."
In the fall, Kenza will attend McGill University to pursue a Bachelor of Arts with a major in GSFS (Gender, Sexuality, Feminist and Social Justice) and a minor in Political Science. "I am not set on a specific career just yet, but I am very interested in several social justice issues," she said. "I'd love to have a career in which I can focus on social justice reform. I am thinking about possibly getting a law degree after my bachelor's. I am not quite sure what the future holds for me, but I know I want to help people by getting to the root of important social issues."