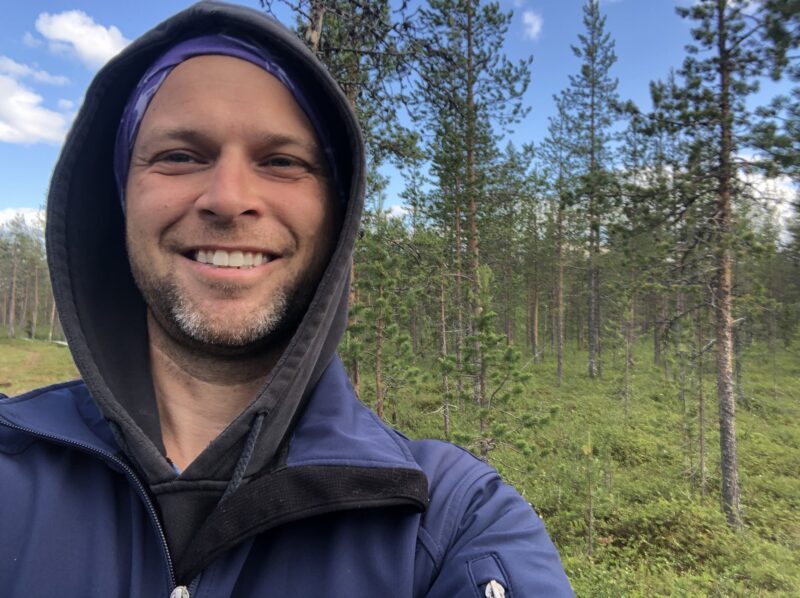 SALTISE Award: Cory Legassic's rising star
Don't be fooled by Cory Legassic's youthful appearance. He will be the first to pull off his cap to show you a shock of gray hair. It's all in the attitude that makes some mistake him for a student.
While student engagement and student success have been foremost on his mind since he began at Dawson in 2009 as a New School facilitator with retired New School maverick Greta Hofmann Nemiroff, Cory's own academic success is being rewarded by SALTISE with its Best Practices & Pedagogical Innovators Award for College instructors.
Thinking outside the box has become a hackneyed expression for innovation. For Cory, there never was a box. He has always approached teaching and learning as a participatory, borderless exercise. When the pandemic forced teachers to pivot to online teaching, he applied his approach to the development of teaching resources to promote online active learning and student engagement despite the technological barriers.
Principles and practice of New School permeate everything
But that is only part of the story. Cory's dedication to the principles and practice at the New School permeates everything he does, inside and outside the classroom. Recently named a DALChampion, he is also very much a New School Champion. "New School puts relationships between students, and relational accountability more broadly, as the centerpiece of learning," he says.
Cory will be starting his second year in the PhD program in the Department of Integrated Studies at McGill "to continue thinking of what makes New School special. I am definitely interested in the critical affective dimensions of student-centered learning."
The PhD will be an important addition to his academic background, along with his Bachelor of Arts from the University of Guelph and his Master's in Sociology and Equity Studies in Education (Collaborative Program in Women and Gender Studies) from the Ontario Institute for Studies in Education in Toronto,
"An important piece of transformative learning has to be supporting students by being comfortable with being uncomfortable—while recognizing the structures of power that shape our classrooms and relationships with ourselves, each other, and the world(s) around us," he says of his PhD studies.
Cory on CEGEP
With his eventual doctorate, will he leave the CEGEP system for university teaching? "I love this age group and CEGEP as a transition space into university, work or next chapter life projects. My own CEGEP experience was transformative. I always describe CEGEP as a space where it's more important to learn how to ask meaningful questions rather than find right answers."
Cory's path at Dawson since facilitating at New School has brought him full circle. He was first hired in Humanities in 2010, followed by Sociology in 2011. He was named New School coordinator in 2014-2015. He was recognized with a Director General's Award for Teaching Excellence in 2015.
Over the course of his career, other accolades have preceded this one. He was a nominee for McGill's biggest PhD award for incoming student: the Tomlinson Doctoral Fellowship and was recently awarded the Canadian Graduate Scholarship – Doctoral level (CGS-D, also known as the super SSHRC, formerly the Joseph Bombardier Award).
What will the immediate future hold for Cory Legassic? After teaching continuously for more than 10 years, he is taking a step back. "I want to develop as a research-practitioner so that I can step forward and dive more deeply into the meaningful collaborations with colleagues at Dawson and throughout the network.
"I want to celebrate Dawson and New School as the playground for innovative pedagogies and share our imagination and practices through scholarship and action research. And I want students to be involved. I want to be part of the movement of practitioners that blur the walls of the classroom, and bridge our epistemological commitments to the communities and lands that hold us."