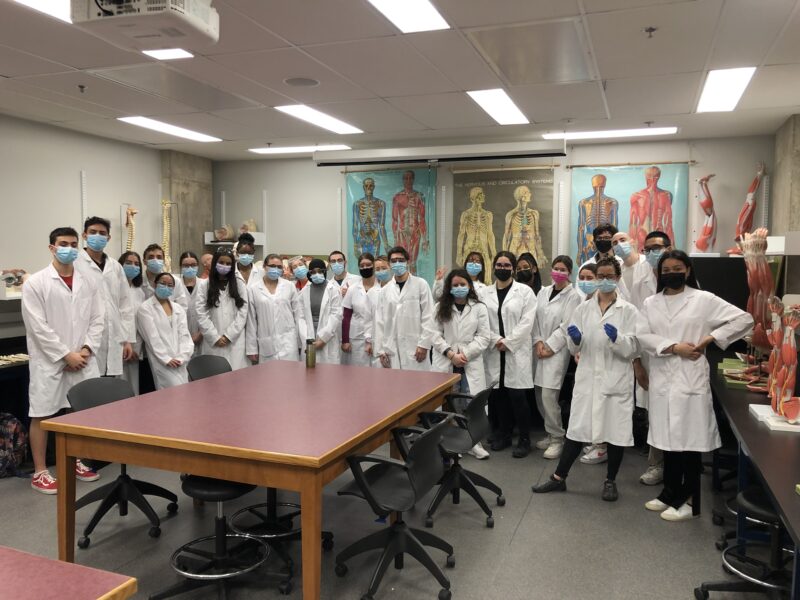 Interprofessional Education project wraps up successful semester and plans symposium, new learning activity for the fall
Around this time of year, the Interprofessional Education (IPE) team likes to share some of the highlights from the project. As always, the IPE mission is for the students within Medical Technologies and Social Service programs to learn with, from, and about each other.
Using cadavers to teach each other
"It really felt gratifying and rewarding to interact and share medical knowledge with the other disciplines that are so specialized in their field, and how the combined knowledge can help the patient!" said Leon Jin Kim a first-year student in the Diagnostic Imaging Program. "I think this experience was really eye-opening and puts everything we learned throughout the year into a different perspective on how our individual roles can cohesively shape the quality of healthcare for the population! I would love to have another opportunity like this!"
Leon is referring to a field trip where roughly 150 students from the science sector went to Concordia University's Exercise Science laboratories to explore cadavers and prosections. The activity's main objective was to use the cadavers to explore the commonalities and differences between the medical technology disciplines. Students from each discipline taught each other about the systems of the body using the cadavers as their teaching tool. In addition, roughly 15 pre-university science students attended the activity contributing their knowledge and making connections to the health sciences fields.
Mabel Chong (Biology faculty) shared that the activity was 'hands down, a truly memorable way to finish the semester".
Identifying commonalities and differences in each disciplines' role
For the fifth year in a row, an overlap activity between Social Service and Physiotherapy Technology took place in April. This two-day activity gathered students from both disciplines to work together on four different Neurology cases where students conducted an intake intervention as a team. Marie-Ève Dufour (Social Service faculty) said "the IPE Role Clarification activity allowed students from our respective disciplines to experience a complex situation as a team and to use both their specific competencies and common strengths for the benefit of the client/patient."
The main learning objective was to help clarify the commonalities and differences between the disciplines' roles and goals when working with a patient or client. "Students were provided with a safe learning environment, where they could be curious about the skills and scope of practice of the other discipline, share their observations, and apply the skills they have developed over the course of the semester," added Marie-Ève.
"The IPE activity we did was a wonderful hands-on learning activity which enabled students to share and learn about each other's professions," said Sabine Choltus, a Physiotherapy Technology teacher. Sabine added "everyone seemed to really enjoy it and everyone (including teachers!) left the activity with a deeper understanding of the other profession."
First-year Social Service student, Veronica Mclean-Wilson said "the activity was extremely beneficial to highlight the skills that will be needed for inter team, inter departmental and intra/inter organizational communication. Many times, in our chosen fields, there is an expectation that everyone understands the lingo being used and assumes everyone involved has the same goals; this is not the case. The exercises' methodology and timing was amazing as it provided insight and professional development even before students entered their respective fields. What an amazing experience." 
In addition, Audrey-Anne St-Laurent (Social Service student) said: "I really enjoyed it and learned a lot from this meeting with the physio tech students. I learned how important it is to talk with other disciplines to get the most out of their knowledge before working with a client whose main issue is out of our expertise. In the role-play I took part in, I was convinced by the client that they didn't need services because I didn't know what the physio tech knew about the medical condition the client had. I now know that when working on an interdisciplinary team, it is important to communicate and get as much information from the other professionals working with this client in order to give the best services."
Teachers learning from teachers 
In addition to this semesters' student activities, the team of IPE faculty hosted a three-hour workshop on simulation for all medical technology and social service faculty and staff. This workshop was a great success with 30 participants.
John Battista (Radiation Oncology faculty) said: "The simulation experience was eye opening to say the least. I was extremely excited to implement this in my own class, and a few short weeks later ended up doing so. Both the students and I had a great time and having done a simulation activity made it all that much more concrete in my mind that this is the way to go forward. So much value in doing simulation, it's a game changer for any technical program."
Penny Smith (Biomedical Laboratory Technology) said: "The IPE workshop on simulation inspired Biomedical Laboratory Technology to incorporate this innovative approach to improving the communication and interaction skills needed in blood procurement. Better communication skills translate into increased patient satisfaction. Thank you, IPE Team!"
We have our own simulation carts, which allow a simulation to be completed anywhere. For more information about the simulation carts, please see the following link:
https://www.youtube.com/watch?v=eZfnuJzb5u0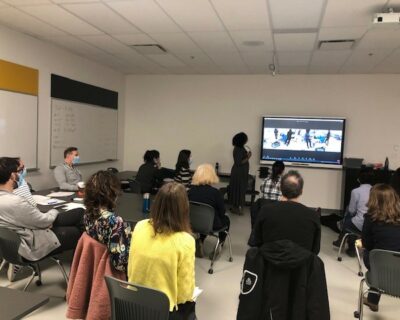 Planning for Fall 2022
Amongst many other activities completed this semester, the IPE team spent time designing three exciting activities for Fall 2022. Here is a little preview.
Sarah Lynn – A breast cancer survivor
This activity centers around Sarah Lynn, a breast cancer survivor. The learning objective of this activity is for the students in each of the seven disciplines to demonstrate their role within the case as well as learn each other's roles when helping Sarah Lynn. The activity is for all second-year students within the health technology sector. The students will be working in small interdisciplinary groups, documenting their discipline specific contributions to Sarah Lynn's recovery, sharing the videos they've created, and then working together on an alignment activity. All activities are integrated within their discipline specific courses.
Ania Stosiak (Ultrasound Technology faculty) said about the planning process: "We asked ourselves 'how can we integrate an IPE activity, with a case study at its core, throughout a course curriculum and in a sustainable manner that allows for learning and the exchange of knowledge at a more specific level across all disciplines. Is it even possible?"
"We knew we had to try to design an activity for all disciplines where we didn't have to get them in the same room," said Krista Bulow (Physiotherapy Technology faculty). Ania added: "we felt that the students would benefit from knowing how the skills they would be learning in the third semester would help all health and medical disciplines learn about the impact they can have on a patient's overall journey with breast cancer. It effectively demonstrates the importance of collaboration in a functional health care system."
Interested to know more about the activity and how we plan to implement it? See link here:
https://www.youtube.com/watch?v=aqGQGMeTDXY
Interested to know more about Sarah Lynn's journey? See link here:
https://www.youtube.com/watch?v=rop_zf9013c
IPE Symposium on Conflict Resolution, Communication, and Cultural Safety
Using a two-year ECQ grant, an additional team of teachers from the sector designed a one-day symposium for all third-year students within the sector. The symposium, scheduled for November 11, will take place at the forum, where all 200 third-year students will spend the day exploring conflict resolution, communication and cultural safety. With the help of graduates from the Theatre program as well as the Creative Collective for Change initiative (Kim Simard and Pat Romano), the immersive activities planned will include scripted skits, role playing and group discussions on the highlighted topics. The final objective of the day includes creating a manifesto authored by all third-year students, collaboratively.
Group Orientation – Creating a sense of belonging
Working with Student Services, the IPE team has planned a group orientation for all first-year students from the sector. The objective of the group orientation will not only give the students a much-needed introduction to the Dawson community, but the aim is to also provide the students with a deeper sense of belonging to the sector of health technology disciplines. The objective of the activity is for students to immediately understand that they are a part of a team of health professionals and that they are not alone in their training.
IPE Think Tank: A moment to share what we've learned 
At this point in the project, a group of 20 teachers and staff from the sector team took a step back to align our thought processes and discuss the future of the IPE pedagogical approach. During this think tank session, we asked ourselves some big questions regarding what we've learned and where are we headed. Some of the critical take-aways from the session include: the importance of collective competence, the balance between interdependent and independent, as well as the importance of being biased towards action. These take-aways and more are highlighted in our fifth podcast episode that you can listen to using the following link:
https://open.spotify.com/show/78VNsSDjmvSOCQ7ztr0zgz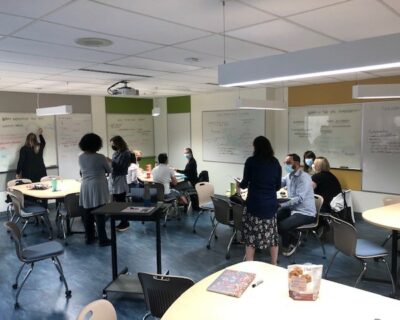 IPE – A work in progress
Part of the work this semester has been establishing a framework for creating future opportunities for the students to learn with, from, and about each other. The team landed on the overarching goals of what we are starting to think of as the IPE "meta-program".
The main objective of orientation and exposure is to lay the foundation through collaboration and role clarification activities. The main objective for immersion is to have students deepen their understanding of collaboration by having them expand on role clarification and collaborative leadership. The main objective for competence is to have students apply their foundational knowledge into complex activities centered on conflict resolution, team functioning and communications.
The specific IPE competencies are based on Bloom's Taxonomy (Bloom, Engelhart, Furst, & Krathwohl, 1956) as well as the IPE competencies, levels, and categories designed by the CIHC (Canadian Interprofessional Health Collaborative). To supplement we are in the process of developing our own step-by-step framework to help guide our process and adapt to the college context.
This framework has helped generate many of the activities thus far. One big "aha" moment was the necessity to start each potential project discussion with an assessment of logistical opportunities and barriers to make sure before investing time and energy in a project that the implementation would be both possible and sustainable over time.
We hope that the multiple revisions happening in the health tech sector will open new logistical possibilities for these types of activities to continue to be developed, as authentic opportunities to practice these interprofessional competencies that are interwoven into our program competencies, because the value for students makes it worth the effort.