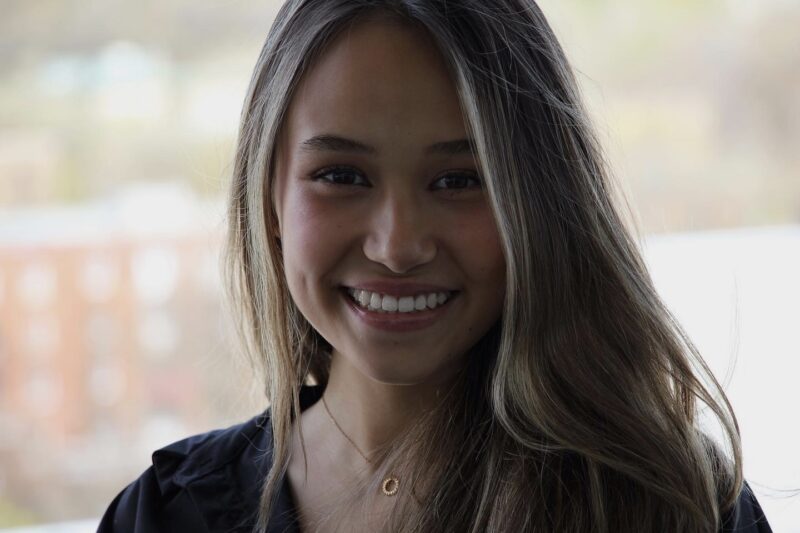 Linnea Nguyen, poised to take on the world
You can feel the spark, even on a Zoom call. A few minutes with Linnea Nguyen and you know this young woman is ready to take on the world. It's no wonder she has been chosen to represent the graduating Class of 2022 as the valedictorian at the June 22 Social Science graduation ceremony at Place des Arts.
The Law, Society and Justice grad had been building an impressive record of service even before she set foot at Dawson. Through her experience with Amnesty International Canada as a National Organizer, UNICEF as a U-Report Ambassador, and serving the Côte-des-Neiges-Notre-Dame-de-Grace Youth Council, she had already been motivating other youth to take political action in a constructive and meaningful way.
At Dawson, she founded Dawson's first Law Club with six other friends (Charlotte Pelletier-Burke, Metaxia Giotsalitis, Naba Qayum, Richard Raphael, and Rosalie Aitouarab) after winning the 2021 Intercollegiate Mock Trial at Vanier College, arguing a criminal case against other student teams.
Class of 2022 makes history
Of her Dawson experience, she says it's the people she met and the friends she made that will remain with her. She knows this Class of 2022 made history after learning online for an entire academic year and showing resilience to rise above isolation and feel more connected.
She also credits her teachers for pulling them through a tough time. "I was taught by brilliant and passionate teachers who guided us through a time where motivation and drive were low," she says. "This was a time where social connection was difficult, the relationships I got to build made those efforts worth it."
One of those teachers, Stacey Zembrzycki of the History and Classics department who had Linnea in her Integrative Seminar class, was unequivocal in her endorsement of her student for valedictorian. She has seen firsthand how strong her voice is, how determined she is to expose social injustice and how powerfully she represents her generation and her identity as a Vietnamese Canadian, fighting the stereotypes and racism she has encountered.
"Linnea knows the power her words hold and in choosing to speak to the silences around this human rights issue, she clearly demonstrates how we ought to address the problem so the future can be brighter for her and others."
Taking control of destiny
Linnea is headed to McGill University in the fall to pursue a Bachelor of Arts in Sociology and Political Science and plans to pursue law afterwards.
When asked about her message to the Class of 2022, she said she wants to honour the accomplishments of her fellow graduates for making the best of the time they had together, despite the pandemic, and how their shared experience has drawn them closer together.
"We are thankful for this time that we have had and we understand that life is unpredictable," she says. "We understand the meaning of hard work, challenge, and resilience. We have shown that even though we cannot control life, we control how we react to it."