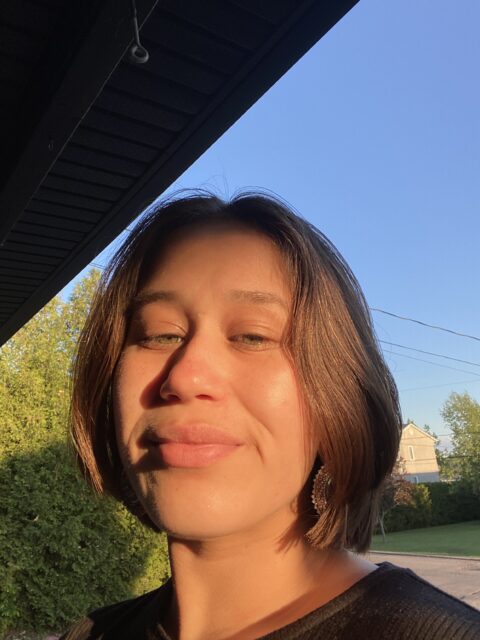 "True leader" and Social Service grad to receive Paul Gallagher Award
Winning the Paul Gallagher Award is a validation for the hard work that Ken'Nikahontehsa Norton-Montour has done over the last three years.
In her nomination letter, teacher Vanessa Robillard said that Ken'Nikahontehsa "has shown a consistent commitment to persevere and excel in any circumstance and strikes the balance between academic and personal responsibilities. Not only is Ken'Nikahontehsa dedicated to her studies, but has actively contributed to College life."
Named after the first Director General of Dawson College, the Paul Gallagher Award recognizes graduating students who demonstrate community involvement, leadership, and academic achievement.
Uniting people
Vanessa said that Ken'Nikahontehsa, a Social Service student, "is a true leader, uniting people with compassion, integrity and humility."
Ken'Nikahontehsa advocates strongly for her home community of Kahnawá:ke. "She led our third-year students in their Community Action Project around creating a community intervention," Vanessa wrote in her nomination letter. "For example, she sensitized the class to the challenges and realities of individuals post incarceration and has taken the time to reach out to the First Peoples Justice Center of Montreal to work in collaboration with them on addressing issues that affect this population."
Ken'Nikahontehsa is grateful for her teachers and her Dawson experience. "Before Dawson, I was at a loss for what to do next. When it came time to apply, I looked into the Social Service Program at Dawson and knew it was for me," said Ken'Nikahontehsa in an interview with Dawson's Communications Office.
Students became family
"What I enjoyed best about my Dawson experience were the people I met in my program," she said. "Our teachers were devoted and I couldn't have made it through without all their support. The students became my family over the last three years. We bonded over tears, laughs and a passion to see change."
Apart from involvement in her program, Ken'Nikahontehsa played rugby and enjoyed participating in Women's and Gender Studies events. One of her poems was selected for  publication in Verge magazine, a project of the Dawson Feminist Union, a student club.
What's next
Her current project is completing a wrestling certificate to coach athletes in the Kahnawá:ke 2023 Indigenous Games. Recently, she started working part time as a Case Aid for the Kahnawá:ke Shakotiia'takehnhas Family Services.
In the fall, Ken'Nikahontehsa will begin a Bachelor of Social Work at McGill University. "My career goals include being an activist and pushing for social change for Indigenous people," she said.