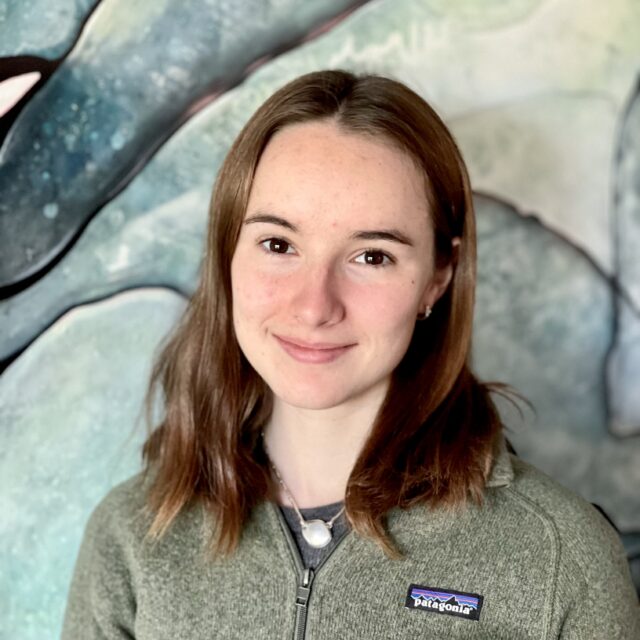 Science Valedictorian lived the full Dawson experience despite pandemic
It was challenging to live life to the fullest during the early phase of the pandemic. If you need some inspiration for making the most of life, read on about Enriched Science soon-to-be graduate Megan Oleksiw, one of Dawson's three valedictorians for the Class of 2022.
Speaking as valedictorian "is a touching honour," Megan said in an interview with Dawson's Communications Office, "especially given the heartfelt attachment I feel toward our college community. Dawson College and the exceptional people I've been privileged to exchange with have empowered me to actively strive to be my best self."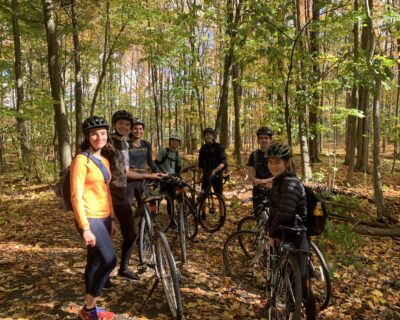 Reducing isolation for fellow students
One of the most remarkable things she did at Dawson was form a club to break the feeling of isolation and bring her fellow science students together.
The Trail Heads Club fosters connections and promotes mental and physical wellness through outdoor activities. "Through a wide variety of activities such as kayaking, hiking, bike trips and cross-country skiing, the Trail Heads Club encourages science students to seek a balanced lifestyle," she said.
Teacher Annie-Hélène Samson, who taught biology to Megan, said that she stood out among the genuinely science-enthused and involved individuals in Enriched Science at Dawson. Megan obtained the highest grade in Annie-Hélène's class but impressed her teacher with all of what she does outside the classroom. "Through her leadership and involvement, I firmly believe that Megan has contributed to making Dawson a better place for all," she wrote in her nomination letter.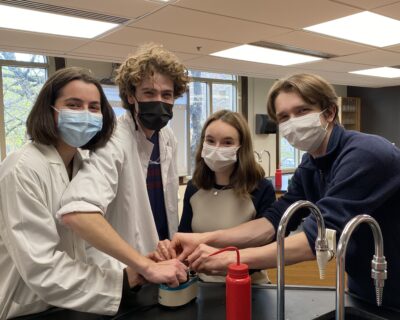 Depth of thought rarely seen in 15 years of teaching
Humanities teacher Mikaela Bobiy, who taught Megan in two courses, also endorsed her for valedictorian: "I believe Megan is an excellent representative of all Dawson College has to offer. Megan has been an attentive and engaged student, showing a depth of thought rarely seen in my 15 years of CEGEP teaching. Megan's work was consistently high calibre."
Megan packed as much as she could into her Dawson experience. "Eager to pursue my interdisciplinary interests, I was keen to get involved in extracurriculars ranging from scientific research to the outdoors," Megan said. "I started by participating in the Neuroscience Research Group, which enabled me to explore my budding curiosity for neurological research. Through this participation, I had the enriching opportunity to be a summer intern at a McGill Neuropsychiatry lab. Interested in student research, I was also excited to volunteer with a tree biodiversity survey project organized by the Dawson Biology Department in collaboration with a research team at Concordia University. Additionally, I partook in gene-editing experiments with the Biochem Club."
Rigour, passion, friendliness intersect at Dawson
In addition to these activities, Megan also volunteered as a peer tutor. She thoroughly enjoyed Dawson, which she says is a place where "academic rigour, passionate staff, and a friendly atmosphere all intersect on our idyllic campus."
"The experiences, opinions, and teachings of people from a wide variety of backgrounds have added texture and provided insight in my educational journey," she said. "They've broadened my horizons, sparked critical thinking, and nurtured a love for learning. From discussions in the Peace Garden to MIO exchanges, I've been fortunate to feel like I could use and grow my voice authentically with the genuine support of caring faculty and a strong peer community."
Next stop for Megan is McGill, either in pre-Medicine or Neuroscience. "Either way, I am ecstatic to be pursuing my university education in a field of science where I can harness my love for learning to contribute toward solving real-world issues without losing sight of the power of human connection and empathy."
A few months before she begins at McGill, Megan will give the valedictory address at the 10 a.m. Graduation Ceremony on June 22 at Place des Arts for Dawson graduates in Science, Medical Studies and Engineering. Her address will pay tribute to the resiliency of her cohort.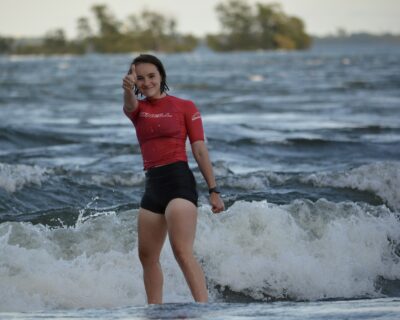 Motivated and resilient
"For many of us, high school was informally completed in the haze of online learning as we embarked on our journey at the college," she said. "This transition was a challenging one. We found our educational and social landscapes upended, and in their place, were confronted with a need to find new outlets and reimagine our routine. The pandemic allowed me to reconnect with my love of nature and discover a passion for river surfing in the St. Lawrence. As a graduating cohort, we enter society as young professionals and university students equipped with the motivation, independence, and drive to attain our objectives, whether they be educational or personal milestones."
In her speech, Megan aims "to highlight our ability and commitment to make a positive impact in our communities and communicate an optimistic vision of a promising future that is well within our reach. I will touch upon our global context."