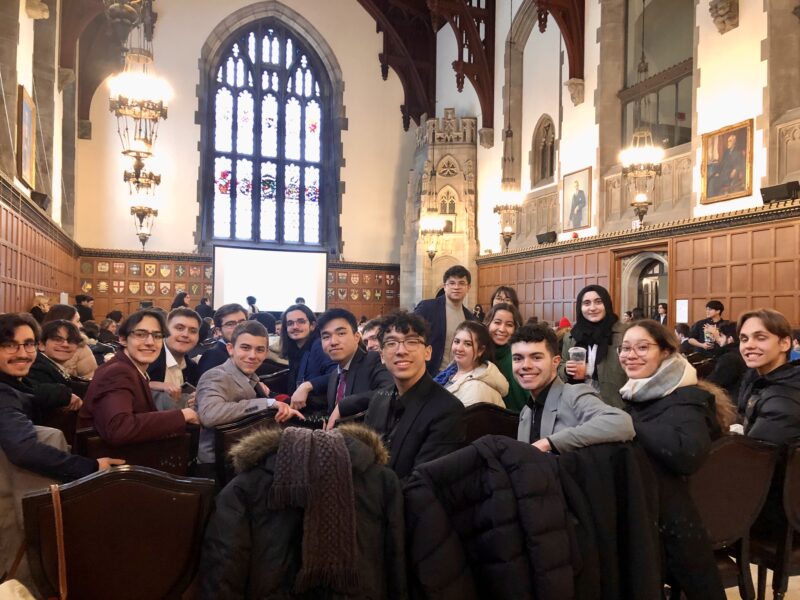 Students learn leadership skills and make lasting friendships at Model UN
About 60 students were able to participate in the Dawson College Model United Nations (DCMUN) para-academic activity this year thanks in part to funding from the Student Academic Enrichment Fund of the Dawson Foundation.
Model UN has a long history at Dawson College, with the activity running on and off since the late 1990s. The current iteration of DCMUN was established in the 2010-2011 academic year and has been running ever since.
Both students and teachers say that DCMUN is an incredibly enriching para-academic activity: students from a variety of programs develop social responsibility and global awareness by experiencing a simulated United Nations environment. They research and debate, write resolutions, and negotiate with students representing other countries to find solutions to real problems facing the world. Students learn and train together during the fall semester and participate in a robust conference season, which starts in November and ends in April.
Focus is personal growth
"The focus of DCMUN is on student success and personal growth, as opposed to awards. Nevertheless, our students consistently impress us with their performance at conferences, and our team regularly earns distinctions for their efforts," say faculty advisors Julie Johnson and Caroline Chochol.
"This year, we were particularly heartened to be able to travel with our students again. Participating at NAMUN at the University of Toronto was a highlight," the faculty advisors said. "Our students received a number of individual awards and distinctions at a variety of conferences. We were particularly proud that our team received the 2023 Outstanding Large Delegation award at Concordia's ConMUN conference."
"It isn't the cheapest para-academic activity and fees can start adding up quickly. Unfortunately, a lot of people can't afford to attend every single conference. …DCMUN is such a fantastic activity to improve not just yourself, but to also surround yourself with a great network of people and funding it opens the opportunity for more students," said Liberal Arts student Layla Kosara.
"We believe any student should have the opportunity to attend a Model UN conference, whether it is local, national, or international. Funding DCMUN allows Dawson to support more students and reduce inequality, and supports our goal of democratizing education," said faculty advisors Julie and Caroline. DCMUN presents opportunities to "enhance their education, help them develop leadership skills, apply their critical thinking to real-world issues, and make lasting friendships and social connections."
Learning empathy and understanding different perspectives
Alex Hadley in General Social Science was one of the students who benefitted this year. He said: "The number of things that I learned greatly exceeded all of my expectations. …I learned how to play a game, a game not unlike life itself. First and foremost, I learned how to comport myself as a delegate; I learned how to debate in a productive and non-confrontational manner. I learned to attack inaccuracies and ambiguity in people's premises and arguments, not attack the author of the argument. Additionally, through a commitment to embody and accurately portray my character and country assignments during each conference, I learned to be more empathetic and understanding of different perspectives and the plights that other countries and political actors face, especially when they clash with my own."
Before joining DCMUN, doing a presentation in front of the class was one of the hardest things for Layla: "Public speaking was one of my biggest fears, but I knew that if I wanted to improve myself and go forward with my education, I needed to overcome that fear. As a bonus, DCMUN helped me gain knowledge in a wide range of fields such as economics, technology, and even antimicrobial resistance."
DCMUN President and Marketing and Management Technology student Nica Calandriello "joined DCMUN because I wanted to make sure I was making the most of my college experience…. I was really hoping to pick up some strong debate skills and maybe make a few friends, but I gained so much more than that. Not only is DCMUN such a tight-knit community, but it's also a family and has taught me so much about myself and what I love."
The memorable experiential learning opportunities of DCMUN "allow our students to step out of their comfort zones. They become more independent, resilient, and empathic. They bring these skills back to Dawson and to the classroom, and this in turn leads to positive change throughout the college," said Julie and Caroline.
"We have observed that students, who may start off as shy in their first year, blossom into confident, capable, and diplomatic young adults, ready for the next stage in their academic journey by the time they are ready to graduate."