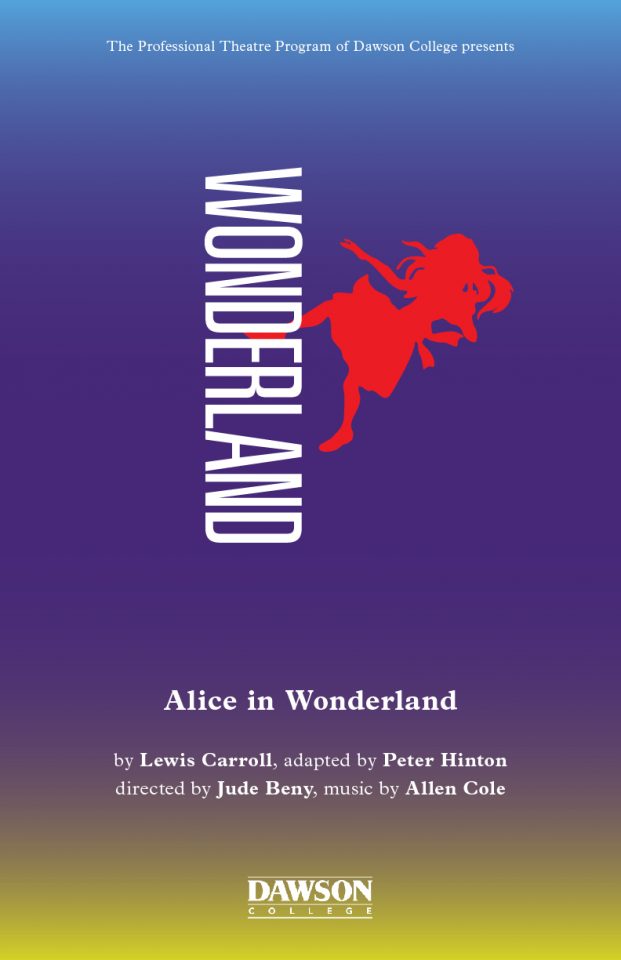 Alice in Wonderland
Playwright:
Adapted by Peter Hinton, novel by Lewis Carroll
Director:
Jude Beny
Student Groups:
Description
Alice In Wonderland by Lewis Carroll
A new adaptation by Peter Hinton
Peter Hinton's highly acclaimed recent adaptation of Lewis Carroll's beloved tale Alice in Wonderland will marry the joy of the original story with delightful devised theatrical magic to create Alice's epic journey through Wonderland. A coming of age story that will delight adults and children alike.
Come tumble with Alice down the rabbit hole!
PREVIEWS
January 27th and 28th 2020
7:30 pm
Cost: FREE
EVENING PERFORMANCES 8 pm
January 29th, 30th, 31st, and Feb 1st
Feb 6th, 7th, and the 8th
Cost:
$5 Dawson Community
$10 other students / seniors
$15 Adults
MATINEES 12:30 pm
January 29th
January 31st
February 6th
Cost:
$5 Dawson Community
$10 other students / seniors
$15 Adults
Times
Performance Dates:
PREVIEWS January 27th and 28th 2020 7:30 pm
EVENING PERFORMANCES 8 pm January 29th, 30th, 31st, and Feb 1st, Feb 6th, 7th and 8th
MATINEES 12:30 pm January 29th, January 31st and February 6th
Cast