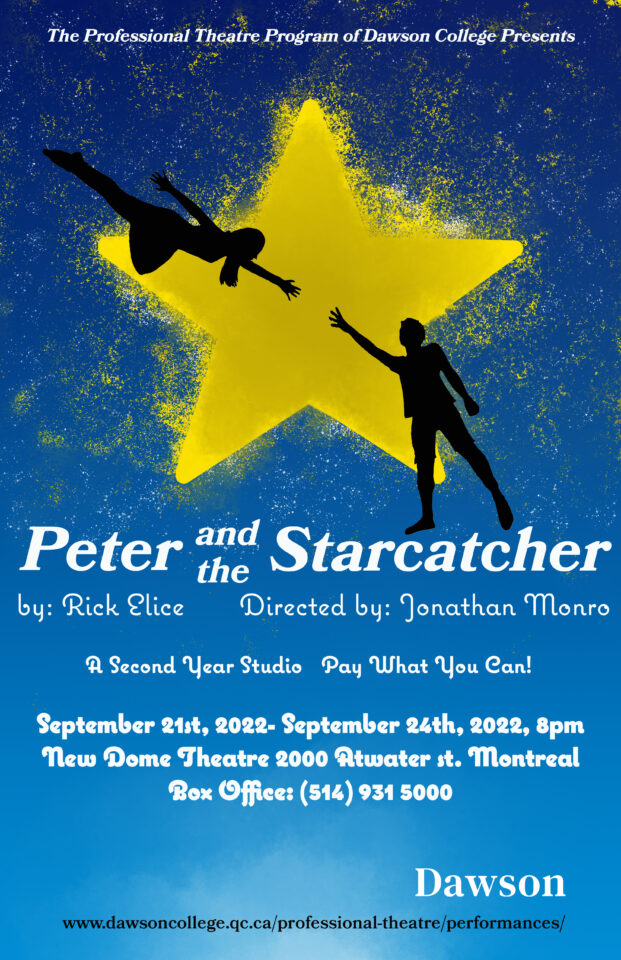 Peter and the Starcatcher
Playwright:
Rick Elice
Director:
Jonathan Monro
Student Groups:
Second Year, Group 1
Description
TICKETS https://www.eventbrite.ca/e/peter-and-the-starcatcher-tickets-417508437977
Peter and the Starcatcher by Rick Elice
"Tony-award-winning Peter and the Starcatcher upends the century-old story of how Peter Pan comes to grow up. From pirates and tyrants to unwilling comrades and unlikely heroes, Peter and the Starcatcher is a thrilling adventure about love and friendship. Featuring music, and a dozen actors portraying more than 100 unforgettable characters, Peter and the Starcatcher uses ingenious stagecraft and the limitless possibilities of imagination to bring the story to life. A play enjoyed by adults and children alike.
Performed by the second year students, and directed by Jonathan Monro.
Wednesday September 21st to Saturday September 24th at 8 pm
Pay what you can! Suggested donation $5
Reservations open on Eventbrite a week before the show
Times
Performance Dates:
Wednesday Sept 21 - Saturday Sept 24