What is New School?
Most of us are used to larger classrooms, where students relate more to their teacher than to each other. New School is an alternative way of doing English and Humanities courses. Our courses are open to anyone in any program and are equivalent to regular English and Humanities credits. We meet weekly for 3-4 hours, usually in the late afternoons and early evenings.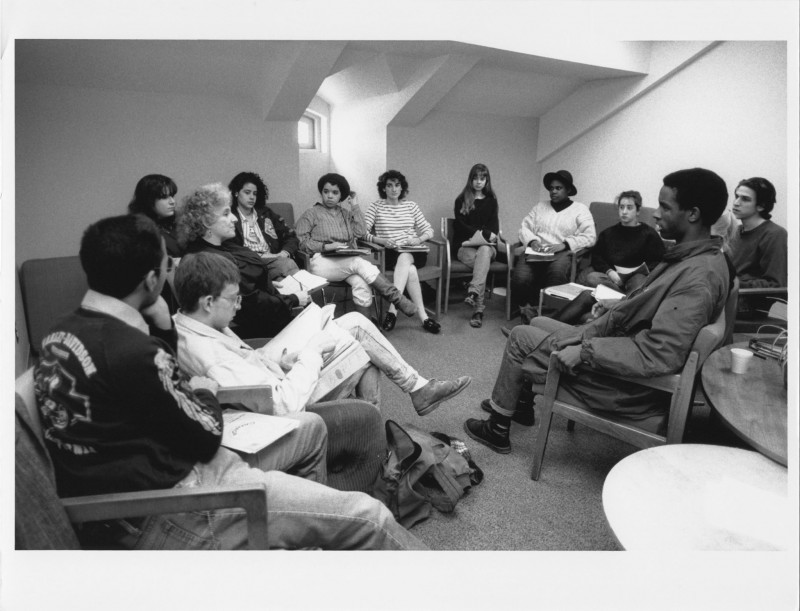 New School has been around since 1973 and we take a Critical Humanistic approach to learning: an approach based on the principles of Critical Pedagogy and Humanistic Education. We believe that people learn best when they have a say in what and how they will learn. In smaller learning groups, we give students a greater role in shaping the content of their courses and designing how they will study their subjects. In facilitating larger group discussions among themselves, our students are encouraged to relate their studies to their personal and social lives and constantly link the personal to the political.
New School Trailer
5 Things You Should Know
New School is a different way of doing Humanities and English courses. It is not a program or profile; anybody at Dawson can take it.
In smaller "learning groups", students get to shape the content of their New School courses and to engage with other students and facilitators in discussion around issues that are relevant to their lives.
New School courses run once a week, instead of twice a week, usually in the late afternoon and evenings. (This eases some of the pressure from your day schedule.)
Our courses happen on the 8th floor, in a more informal setting, with couches, and tea or coffee if you come early and plug in the kettle!
You can take anywhere between 1 to 7 courses with us. These count for the same credits as regular courses, and you will see no difference on your transcript.
The difference is in the role you play in your learning.
Coordinator of New School