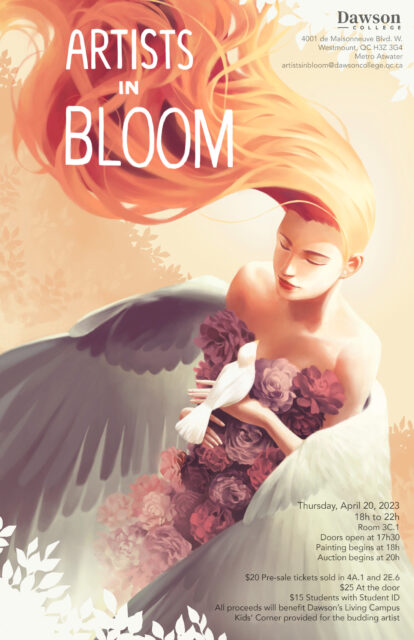 25th Edition of Artists in Bloom is April 20!
Springtime means that Artists in Bloom is back! This year will be the fundraising event's 25th annual edition—a quarter century! We are excited to welcome you to the event and to see what our talented student artists will produce.
Artists in Bloom is an annual event held at Dawson College which has raised funds for a variety of projects that the Dawson Foundation supports. Over the past 24 years, the event has raised around $158,000 for various causes. This year, all the funds raised will benefit Sustainable Dawson – Living Campus.
The Sustainability team furthers the College's vision of well-being for all and guides the Dawson community as it strives to implement a bold strategic goal: To be a leading post-secondary institution in promoting sustainability in all its endeavours.
In order to make this fantastic event accessible to as many people as possible, this year's Artists in Bloom will be taking place both online and in person. The 25th edition will see the return of the in-person version of the event that we all know and love. It puts on display over two dozen talented student artists in the 3D Animation and Computer Generated Imagery and the Illustration Programs who create new works of art over a two-hour period, which will then be auctioned off by a Montreal personality.
Starting at 6 p.m., watch these talented artists transform a blank canvas into something incredible while you indulge in some hors d'oeuvres, sip on a drink, listen to some live music, vote for your favourite painting, and chat with friends and fellow art lovers.
Happening April 11-14 and 17-19 in the Upper Atrium (right in front of the escalators) between 12 p.m. and 2 p.m., there will be an Artists in Bloom table where you can buy your event tickets and prints produced by Illustration students. Cash and credit/debit cards will be accepted.
If you cannot attend the in person event, you can still purchase the prints and artworks in support to the cause online between April 11-28 for prints and until the 20th for tickets.
THURSDAY, APRIL 20, 2023
Dawson College – Room 3C.1
Doors: 5:30 p.m.
Start of painting: 6 p.m.
Beginning of auction: 8 p.m.
Tickets: Adults – $20 (prior to the event day person in the Upper Atrium or at 2E.6 and 4A.1) or $25 (online or at the door). Tickets will be on sale online as of April 11. You can buy tickets in-person at 2E.6 and 4A.1 as of Monday, March 27 (cash only).
Students – $15
12 years old and under – free!
For questions please contact artistsinbloom@dawsoncollege.qc.ca.