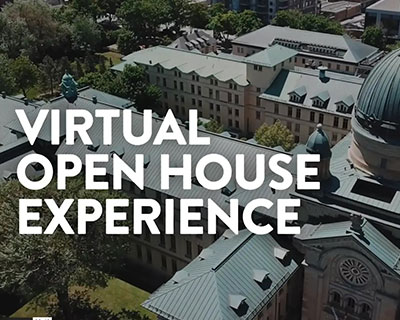 Dawson creates compelling online experience for Open House Oct. 20-25
MONTREAL (Oct. 19, 2020) – The first-ever Virtual Open House of Dawson College begins Tuesday, Oct. 20 and runs through Sunday, Oct. 25.
The experience will launch from the 2020 Open House landing page on the Dawson website: www.dawsoncollege.qc.ca/open-house
For students considering applying to CEGEP for Fall 2021, Dawson will be offering:
22 technical programs
5 pre-university programs
Many profiles of study to choose from in three of the pre-university programs: Arts, Literature and Communication, Science, and Social Science
New: Medical Ultrasound Technology is a new three-year technical program. It will be offered for the first time in English in Quebec at Dawson College
We made a 49-second video to show you our Open House 2020 Experience:
There are three components to the Virtual Open House experience.
Two experiences are on demand. Students and parents are invited to drop by when it suits them:
Browse the web: Check out our brand new web presentations of programs and profiles of study and read the Viewbook online. Find out what you will learn, where our programs will lead you, what prerequisites you need to get in, and more!
Watch videos: 46 new videos about Dawson programs, profiles of study and Student Services will launch Oct. 20. The videos are in the 3-5 minute range. Representatives will address the most common questions from students considering Dawson College.
The third part of the Open House Experience is scheduled over six days, Oct. 20-25. Check the schedule to ensure you attend the sessions that interest you:
Ask your questions: A team of teachers, academic advisors and College representatives will be standing by during two-hour chat appointments for programs, profiles of study and other services, such as Athletics and the Student AccessAbility Centre. This time is for you! Consult the schedule and put the dates in your agenda: https://www.dawsoncollege.qc.ca/open-house/schedule/
For more information, please contact:
Christina Parsons
Communications Office
514-949-9183
cparsons@dawsoncollege.qc.ca