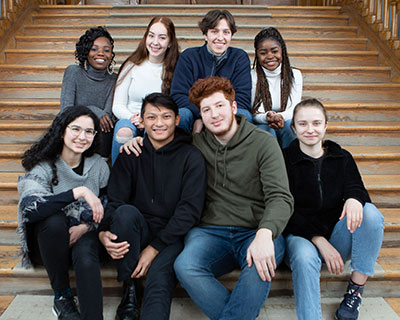 Open House will launch 46 new videos and offer daily chat opportunities
Dawson College will be offering 22 career programs and five pre-university programs in the Fall 2021 Semester. The Medical Ultrasound Technology Program will be offered for the first time at Dawson and for the first time in English in Quebec.
In addition to that, the pre-university programs of Arts, Literature and Communication, Science and Social Science each offer profiles of study to experience the program with a learning community gathered around a particular theme.
Exploring Dawson through videos
Virtual visitors to Open House will get to explore all the programs and profiles of study at Dawson through brand new videos produced this fall. Dawson is proud to launch 46 brand new videos during Open House. Each program and each profile will be featured in a short video as will some services of particular interest to students, such as Athletics, the Student AccessAbility Centre and the Academic Skills Centre.
A special video welcome to the College for Indigenous students is also being launched as well as a video about the Journeys college transition program for Indigenous students who would like extra preparation for CEGEP.
Although students will not be able to visit the campus, they can take a two-minute video tour of Dawson College.
The Open House Experience
The first-ever Virtual Open House at Dawson will take place Oct. 20-25. There are three ways to experience Open House. Here is the suggested order:
Browse the programs and profiles of study on the website: check out our new web pages and Viewbook. Find out what you will learn, where our programs will lead you, what prerequisites you need to get in and more!
Watch New videos will be launched on Oct. 20 on each program or profile web page. A program coordinator or representative answers the most frequently-asked-questions and shares must-know information.
Ask your questions during live chat events: a team of teachers, academic advisors and College representatives will be standing by to take your questions in a one-on-one format during a two-hour scheduled live chat event for each program and profile.
Check out the Open House website for all the details:
https://www.dawsoncollege.qc.ca/open-house/
Consult the live chat schedule:
https://www.dawsoncollege.qc.ca/open-house/schedule/