Resistance and Resilience opens Oct. 8
Following the success of Skénn:en: Peace and Decolonization (2017) and Queer and Peace (2018), Diana Rice (Programming Coordinator, Peace Centre) prophetically conceived of a project that would provide a space for those voices traditionally unheard and often ignored: Legacy and racialized immigrant communities. Once again collaborating with Rhonda Meier of the Warren G. Flowers Art Gallery, the work began in 2018 to create a platform for artists to display their experiences of racism and systemic oppression.
This vision is brought to life in Resistance and Resilience.
Timely message of justice
What makes the exhibition unique is not only the timely message of justice, emphasis on social equity and resisting inequity, but that, like all Peace Centre exhibitions, the project is distinguished by its inclusion of both established (professional) and emerging (student) artists as well as a vigorous program of speakers and workshops.
After months of careful curation by Rhonda, and a jury selection—composed of Dawson staff, alumni and faculty—to select the emerging artists from an open call, Resistance and Resilience was slated to open in April 2020. We were excited to display art from three Dawson students who responded to the call:  Asia Mason, Ya-Nan Song (both enrolled in Photography), and Dallas Karonhia'nó:ron Canady Binette (Spring 2020 graduate). We were equally thrilled to discover Lux Habrich, a 2011 graduate of Dawson's Visual Arts Program, now living in Halifax.
Yet, as we know, life had another plan, and the world came to a grinding halt.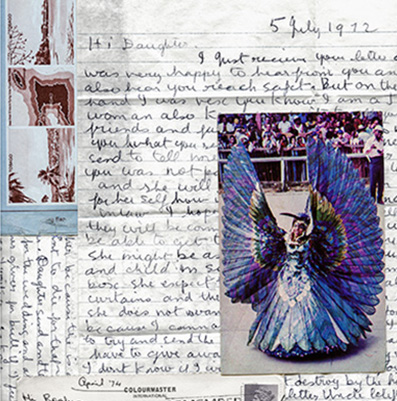 Asia Mason, 201972 (detail), 2019
Interactive website makes Resistance and Resilience more accessible
After much deliberation, the team decided to remake the exhibition in the form of an interactive website. This afforded us the opportunity to make Resistance much more accessible to the public, its message is no longer relegated to a corner, open only to those who could come to the campus.  Now it is available to all through the power of the internet, regardless of the device (phones, tablets, and computers), the location (homes, libraries, community centres). Given the themes of this exhibition, democratizing art became our singular kinetic force.
All the artists responded to this change enthusiastically. While several planning to travel to Montreal were no longer able, they contributed to the shaping of the online exhibition, and will be present at the Zoom opening Oct. 8.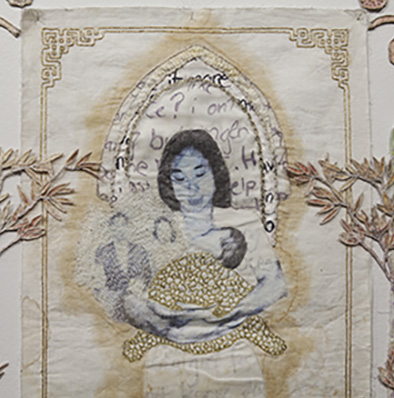 Lux Habrich, Mother's Tears (detail), 2016-19.
We must change
As Black Lives Matter highlighted the need for social justice, resistance, and resilience, we were reframing an exhibition that already activated many of the demands it expressed: we must change and we must create a space for experiences and expressions of diversity without any obstacles of privilege.
Resistance and Resilience not only brings together young artists to participate in a professional event, but provides their peers the opportunities to enrich their intercultural competencies and engage in productive dialogue on challenge and differing life experiences. In the sharing of expressions of resistance and resilience to violence and discrimination, the exhibition does more than meet the needs for innovative curriculum and high-impact learning practices—it meets the need for social change, equity and peace.
Content submitted by: Ildikó Glaser-Hille
Interim Coordinator, Dawson College Peace Centre
HOW TO "GO" TO THE EXHIBIT: 
Resistance and Resilience
An online virtual exhibition: http://resistanceresilience.dawsoncollege.qc.ca/ 
Artist panel and Opening:  October 8, 3 p.m. – 5 p.m.
To come to the event on Oct. 8: 
https://dawsoncollege.zoom.us/j/95672058155
Meeting ID: 956 7205 8155