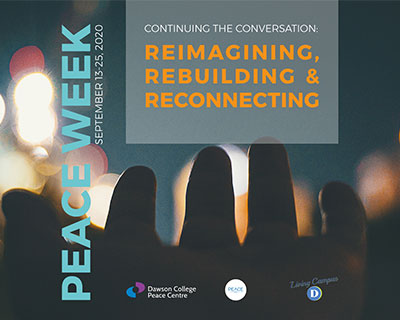 Peace Week 2020
Continuing the Conversation: Reimagining, Rebuilding, Reconnecting
The semester has started. Usually a time of excitement and exhilaration as the Dawson College community dives into the beautiful trifecta of educating, engaging, and enriching.  This year is different.
The halls are devoid of the cacophony of laughter and chatter, rendering the College strangely subdued. We aren't congregating, making the sharing of ideas a bit more difficult. Students and faculty and staff aren't convening in person, and interactions with other humans are harder to come by.
Still working toward peace
And yet, we are still forging our community, our sense of togetherness. We are still working to instil a just, equitable, sustainable, and peaceful community. These qualities become more important now than ever before.
In its mission of promoting peace and justice by continuously serving the Dawson Community, the Peace Centre has decided to continue with its yearly Peace Week, but with some slight twists: instead of ending on International Day of Peace (September 21), Peace Week 2020 will continue until September 25. Instead of one singular theme, we have one overarching theme—Continuing the Conversation—with three sub-themes: Reimagining, Rebuilding, Reconnecting. And instead of the planned activities being held in-person, events will be held online, mostly through Zoom.
Interactive play, accessibility workshop, daily yoga and more
So what sort of events are being offered? Everything from an interactive Playback Theatre by Third Space Playback to an accessibility and movement workshop (LEGacy Circus), from daily yoga to weekly meditation to the opening of our beehives. We are also hosting two pedagogical workshops, one on Equity and Inclusive Teaching Design (Kieren de la Rue, University of Regina) and Microaggressions in the Classroom (Jessica Bleuer, Concordia University).
We are also hosting a series of keynotes geared towards students and the Dawson community, including: Truth and Reconciliation: The Power of Narratives & Storytelling (Merelda Fiddler-Potter); Coloniality and Gender (Nanea Renteria and Daniel Santiago Sáenz); Navigating Mixed Heritage and Intergenerational Healing by Lux Habrich; and Dr. Kenneth Atsenhaienton Deer's role in developing the United Nations Declaration on the Rights of Indigenous People, an event co-hosted by the First Peoples' Centre.
Schedule updated daily
Our schedule of events is being updated daily, so make sure you take a peek to see what's on! You are always welcomed to join, just make sure that you register to receive the Zoom link. We love seeing classes attend as well. If you wish to reserve your spot, or if you have any questions or concerns, do not hesitate in contacting the Peace Centre's Interim Programming Coordinator, Ildikó Glaser-Hille, at iglaserhille@dawsoncollege.qc.ca.
Content submitted by Ildikó Glaser-Hille of the Peace Centre
Note
September 13-25, 2020