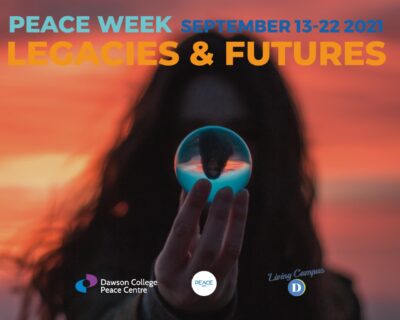 Peace Week continues until Sept. 22
Peace Week continues until Sept. 22.
Noteworthy events coming up:
Sept. 17 at 1 p.m.: Indigenous Scientific Knowledges Deserve Protection and Respect with Dr. Warren Cardinal-McTeague. Open to the Dawson Community.
Sept. 21 at 2:30 p.m.: Relationships as Legacy and Future for Indigenous and Non-Indigenous Peoples (virtual event) with Dr. Tracy Lindberg.
Sept. 22 at 11 a.m.: Blackness and Liminality in Post-Secondary Education with Dr. Philip Howard (virtual event with collective viewing options in 3F.43) Faculty Professional Development Event.
Please note that registration is required for most events and that many are online. Click Read More to go the schedule with links to register.