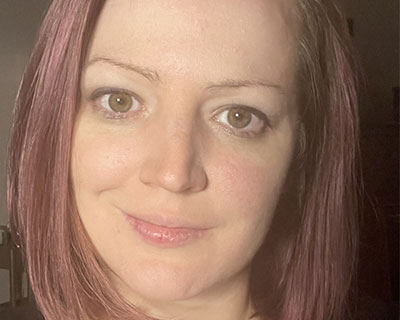 Meet Elaine Gusella, Dawson's new Independent Video Game Design co-coordinator
Elaine Gusella is living out her professional dreams as the new co-coordinator of the Independent Video Game Design (IVGD) AEC Program at Dawson College and as a partner in Artifact 5, an independent video game studio.
"Breaking into video games is difficult for anyone," she said. "Historically, the industry has been male-dominated and there has been extra pressure on women to prove what we can do. There is a brighter future for young women and we have communities and networks of support for them."
Dawson's unique entry into video game design
Dawson offers a way for people to break into the growing Montreal industry through a two-year evening program in IVGD, which is unique to Dawson. As an AEC (Attestation d'études collégiales) training program, IVGD focuses exclusively on courses and skills you need to be a video game designer and/or run a video game design studio. Students take four courses each semester over four semesters.
Like all CEGEP programs, IVGD is virtually free for permanent residents and applicants do not need to have work experience or a university degree to apply.
Job prospects for graduates' are very good since Montreal is one of the top five video game production hubs in the world. In addition, revenues from video games have surpassed revenues from television and cinema, Elaine said.
Joining the video game community
"At Dawson, we offer an environment where students learn from other students as well as their teachers who are all professionals working in the industry," Elaine said. "Many of us are studio owners and we are investing in the next generation. When students begin IVGD at Dawson, they are joining a community."
Elaine joined the studio Artifact 5 in 2018 and became a partner in 2020, a year before she began teaching at Dawson. She is particularly happy to work at a studio that promotes strong values and includes positive messages in their games and content. A recent project addressed mental health and depression.
Elaine's new game launching in 2022
Elaine is currently working on a game called Lucky Me (http://luckymegame.com/), a logic shooter game that draws inspiration from rap music videos. It will be launched this year.
"It's a clever twist on shooter games, where all the enemy characters mimic your every move exactly," she explained. "As a player, you must use their predictability and the environment to be the last one standing."
Elaine worked as part of a team of four people. In her role as game designer, she developed the game features, created the different game modes and user experience, as well as worked on the puzzles themselves. "We're very excited to share this project and we've already had a really positive reaction from the public," she said.
Lucky Me is part of the official selection of Demo Nights, an event that celebrates independent production. Elaine's game will be shown on Feb. 3: https://www.demonight.ca/2022
Elaine's career transition to independent video game design came after a decade of work in publishing and content creation as well as studies at McGill University in Classics and French literature, particularly of the French Renaissance period.
Supporting women who want to make games
Elaine was supported and encouraged by Pixelles, a nonprofit organization dedicated to empowering more women to make and change games. "I was a participant in the third game incubator of Pixelles in 2015 and became a coordinator not long after that," she said. "I am extremely proud of the work we do with Pixelles, which was founded by Rebecca Cohen-Palacios and Tanya X. Short in 2013."
Elaine continues to support women in gaming as a volunteer with Pixelles and as a teacher at Dawson. A student recently thanked her for being her first female teacher.
Note
Important information for prospective students