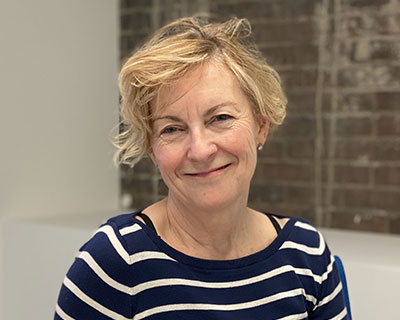 Nursing teacher promotes environmental understanding for Quebec nurses
For more than 20 years, Fiona Hanley has been an activist and researcher studying the impact of the environment on our health. In recent years, the Dawson Nursing Program teacher has been a key mobilizer in collaborating with the Ordre des infirmières et infirmiers du Québec (OIIQ) to create a climate change committee.
"Our health and well-being depends on a healthy environment, but accelerating environmental change has disrupted the planetary conditions on which we humans have depended for thousands of years," she said.
"Nurses have a key role in helping people understand how their health is connected to the state of the environment, and in leading initiatives to prevent further climate impacts on human and ecosystem health," Fiona continued. "There is an urgent need to tackle this global health crisis and nurses are at the frontlines working at multiple levels to create a better healthier future for the world's children."
In 2019, the first fruit of the new OIIQ committee was a position paper on climate change that was presented at the annual congress. "The OIIQ was the first health profession licensing association in Canada to issue a position paper on climate change and health," she said.
This spring, Fiona was co-author of an article published by the OIIQ about climate change and daily practice. "Climate change is a global health emergency," she said. "COVID-19 arises from the same issues that create climate change: environmental degradation, industrialized agriculture, deforestation, invasion and appropriation of wild spaces. One of the risks of climate change is the spread of infectious disease, and the current pandemic is a clear indication of the need to change the way we do things."
Fiona incorporates climate change awareness and its impact on health into her teaching at Dawson College and also speaks regularly at conferences.
On May 20, Fiona is presenting on climate change and nursing education at the Colloque international francophone Climat et santé hosted by the Médecins francophones du Canada at the Université de Montréal. She will also do a workshop on climate change for nursing teachers at the upcoming conference of AEESICQ (Association of Quebec College Nursing Teachers) https://www.aeesicq.org/colloque-2020
Fiona is also the Quebec representative for the Canadian Association of Nurses for the Environment (CANE): https://cnhe-iise.ca/
You can read Fiona's article published by the OIIQ this spring here: https://www.oiiq.org/en/les-changements-climatiques-et-les-soins-infirmiers-de-la-connaissance-a-la-pratique
The OIIQ position paper on climate change is here: https://www.oiiq.org/en/les-impacts-des-changements-climatiques-sur-la-sante-des-populations-et-la-pratique-infirmiere